Funding allocation in 2020 predicts post-pandemic trends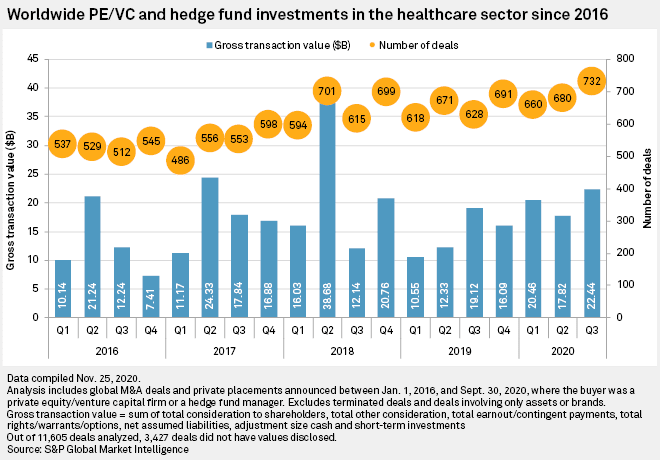 If there is any doubt whether COVID-19 has changed the economy, simply look at the investment allocations for healthcare.
The COVID-19 pandemic drove investors in most regions to focus on companies aligned to the needs of people and businesses within the "new normal," including those focused on enabling remote working and home learning or enhancing online service capabilities.
The aggregate transaction value for the healthcare industry in 2020 was $60.72 billion based on 2,072 deals tracked by S&P Global Market Intelligence. Only industrials and information technology attracted more investment and raised $65.05 billion and $97.50 billion, respectively.
Biotechnology, which had the highest investment activity among healthcare subsectors in the first half of the year, held onto its lead and brought in about one-third of the total investment pool in 2020. Biotech businesses garnered $20.19 billion in investments based on 577 deals announced between Jan. 1 and Sept. 30.
Healthcare technology also saw strong investor activity in the third quarter and had raised $12.51 billion from 482 deals in the three quarters ending Sept. 30 — second-highest among all healthcare subsectors in 2020.
Healthtech had 273 deals in the first half of the year, bringing in about $3.47 billion and landing fourth behind biotechnology, pharmaceuticals and healthcare equipment during the first six months.
Health and biotech were big bets for venture capital investors in the third quarter and investments in these sectors will likely remain very high, along with investment in financial technology, business productivity solutions and digital platforms, according to KPMG Private Enterprise's Oct. 21 report.
Source: S&P Market Intelligence
Message Board