Visuals
Antibiotic Prescriptions Associated With COVID-19 Outpatient Visits Among Medicare Beneficiaries, April 2020 to April 2021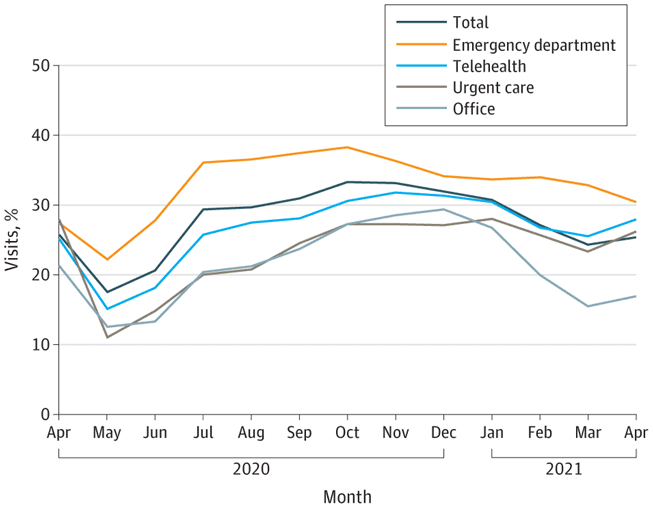 June 2, 2022 - 7:50 pm
Outpatient Visits for COVID-19 and Associated Antibiotic Prescriptions Among Medicare Beneficiaries Aged 65 Years or Older, by Setting, US, April 2020 to April 2021. The volume of COVID-19 visits differed by setting: emergency department, 525 608 (45.8% of all visits); office, 295 983 (25.3%); telehealth, 260 261 (22.3%); and urgent care, 77 268 (6.6%).
Source: Journal of American Medical Association Network
The StreetRx Program captures "street price" of prescription drugs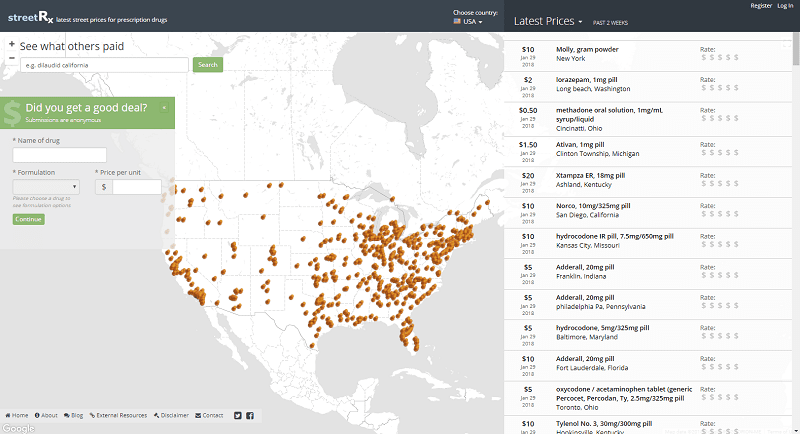 April 22, 2022 - 8:16 am
The street price of prescription drugs as well as illicit drugs is captured through a publicly-accessible website www.StreetRx.com. The site allows for anonymous submission of street prices paid for specific prescription and illicit drugs. The geographical area is captured along with the street price paid. Visitors to the site can also view submissions of other street prices paid for a range of these drugs.
Source: Radars System
CDC data show resurgence of STD's after pandemic-related decline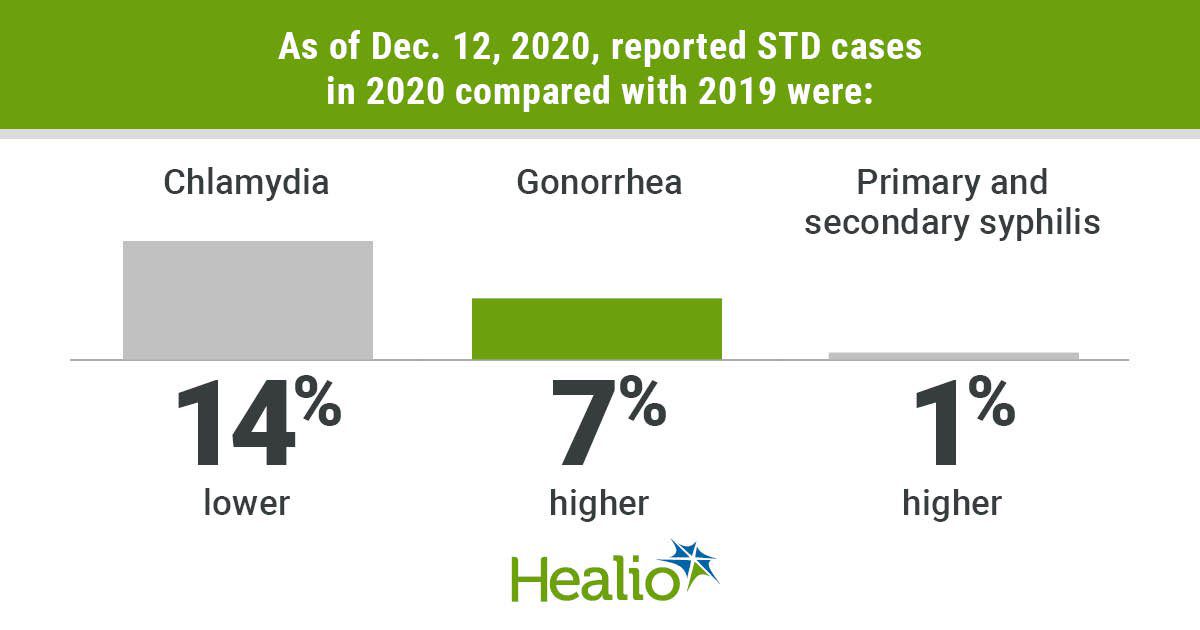 April 14, 2022 - 4:50 pm
STD's resurged in the United States by the end of 2020 following a decline in reported cases of chlamydia, gonorrhea and syphilis in March and April during the first peak of COVID-19.
Source: Centers for Disease Control & Prevention
Current virus levels in wastewater by city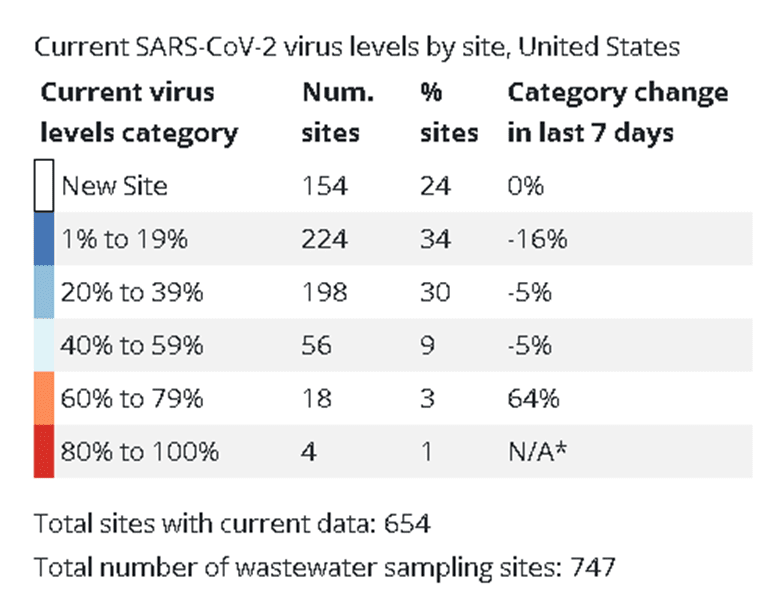 April 7, 2022 - 8:20 pm
This metric shows whether SARS-CoV-2 levels at a site are currently higher or lower than past historical levels at the same site. 0% means levels are the lowest they have been at the site; 100% means levels are the highest they have been at the site. Public health officials watch for increasing levels of the virus in wastewater over time and use these data to help make public health decisions.
Source: CDC
Many struggle to find COVID-19 at-home tests


March 31, 2022 - 7:58 pm
The vast majority (89%) of those who attempted to get an in-person COVID-19 test in the past month say they were able to get one. Still 11% of those who tried to get such a test (4% of all adults) say they were unable to get an in-person test, and 23% (7% of all adults) say they had to wait two days or more to be tested.
Source: Kaiser Family Foundation
How wastewater viral loads mirror COVID forecast projections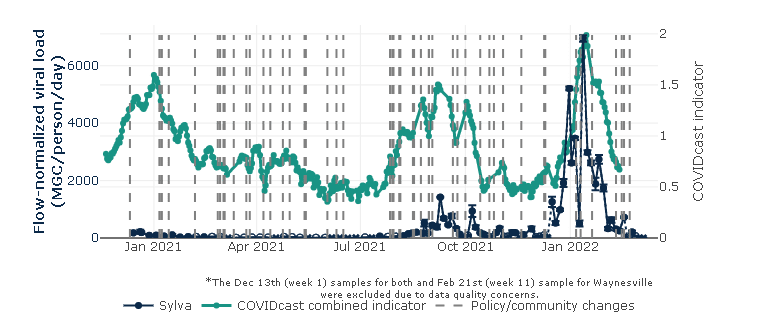 March 18, 2022 - 7:49 pm
An app shows trends in COVID-19 cases, deaths, wastewater surveillance, and other key metrics for the state of North Carolina.
Source: Mathematica
CDC's FluSight forecasting will utilize COVID-19 modeling techniques in 2022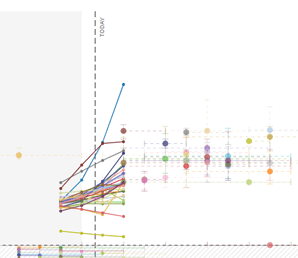 March 11, 2022 - 6:38 pm
CDC's efforts with forecasting began in 2013 with the "Predict the Influenza Season Challenge", a competition that encouraged outside academic and private industry researchers to forecast the timing, peak, and intensity of the flu season.
Changes were made in response to data becoming more difficult to interpret because of the ongoing COVID-19 pandemic.
Source: Centers for Disease Control and Prevention (CDC)
Factors accounting for growth in personal health care (PHC) expenditures, calendar years 1990–2028

February 19, 2022 - 10:12 am
Growth in the total personal healthcare cost is equal to the sum of economy wide and relative inflation and is a weighted index of the price for all personal health care services.
Source: Centers for Medicare and Medicaid Services, Office of the Actuary, National Health Statistics Group; and Department of Commerce, Bureau of Economic Analysis and Bureau of the Census.
Search frequency of specific COVID-19 symptoms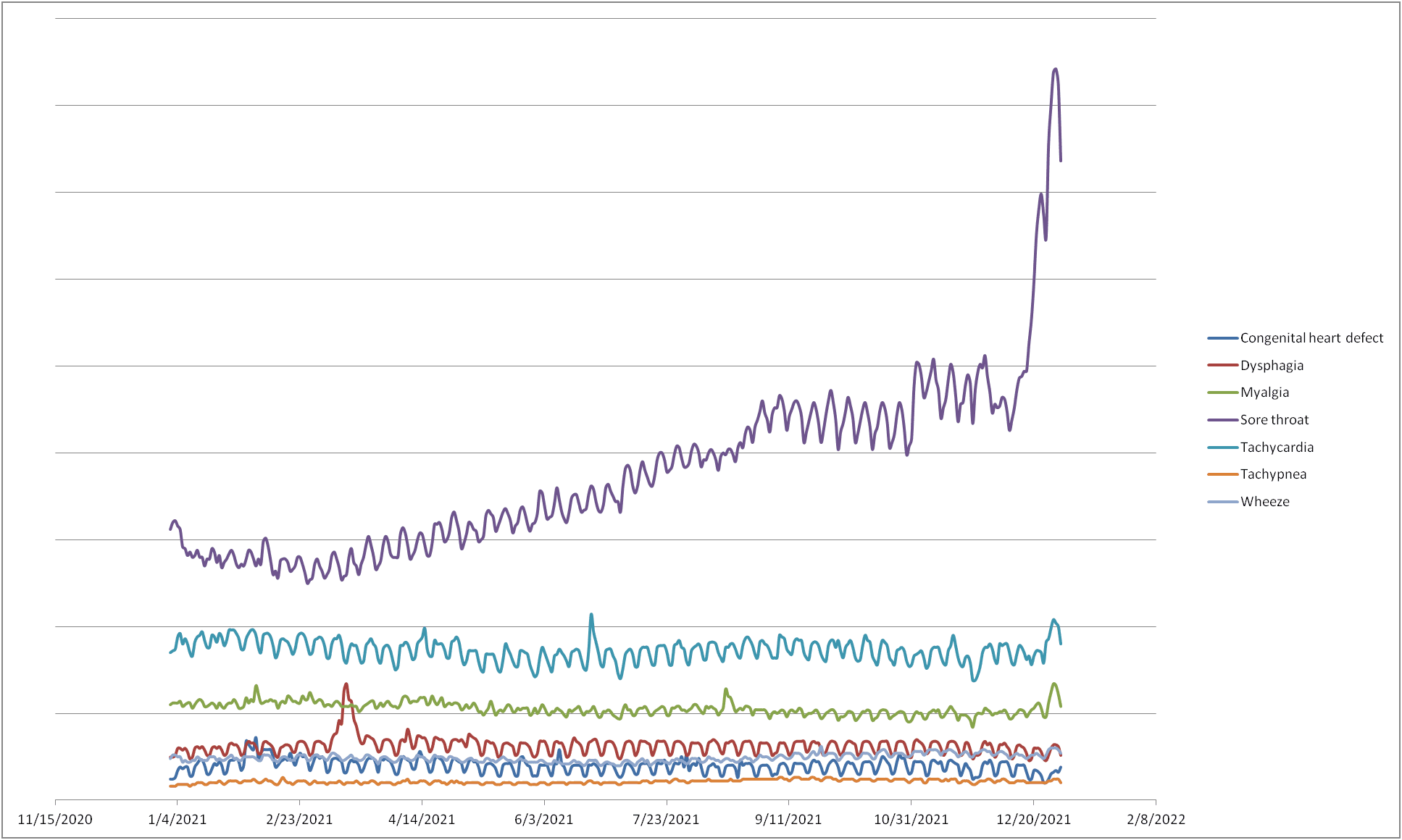 February 6, 2022 - 1:19 pm
We trend the frequency of specific search terms from 2021 to the present used by the American public when looking up symptoms of COVID-19. The terms analyzed are: congenital heart defect, dysphagia, myalgia, sore throat, tachycardia, tachypnea, wheeze.
Source: Centers for Medicare & Medicaid Services, Office of the Actuary, National Health Statistics Group; U.S. Department of Commerce, Bureau of Economic Analysis; and U.S. Bureau of the Census.
Per capita national health expenditures from 1960-2020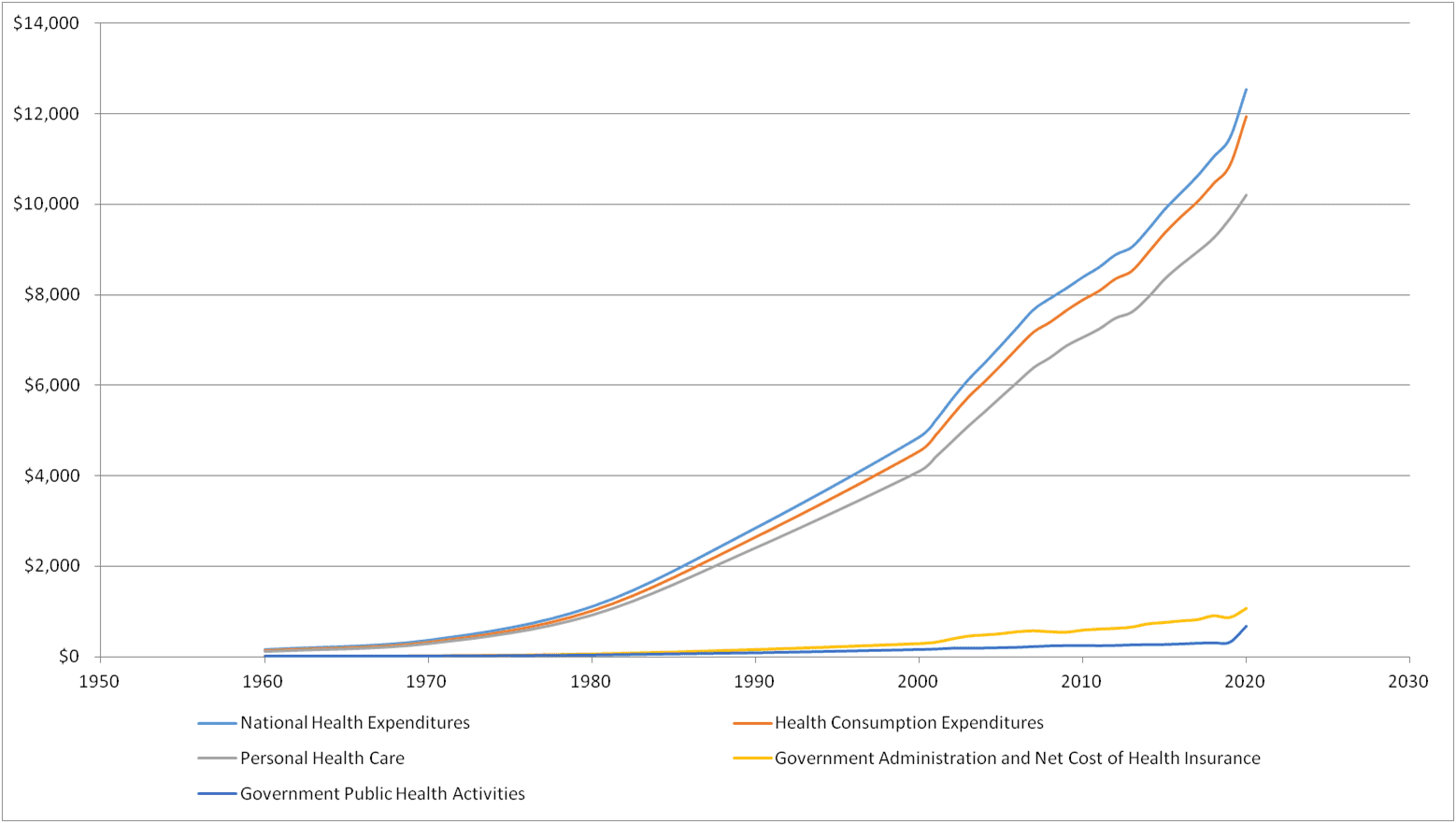 January 22, 2022 - 10:16 am
The data categorizes expenditures as national health expenditures, health consumption costs, personal health costs, administrative costs, and public health activities cost.
Source: Centers for Medicare & Medicaid Services, Office of the Actuary, National Health Statistics Group; U.S. Department of Commerce, Bureau of Economic Analysis; and U.S. Bureau of the Census.
Confirmed Omicron cases, deaths, and admissions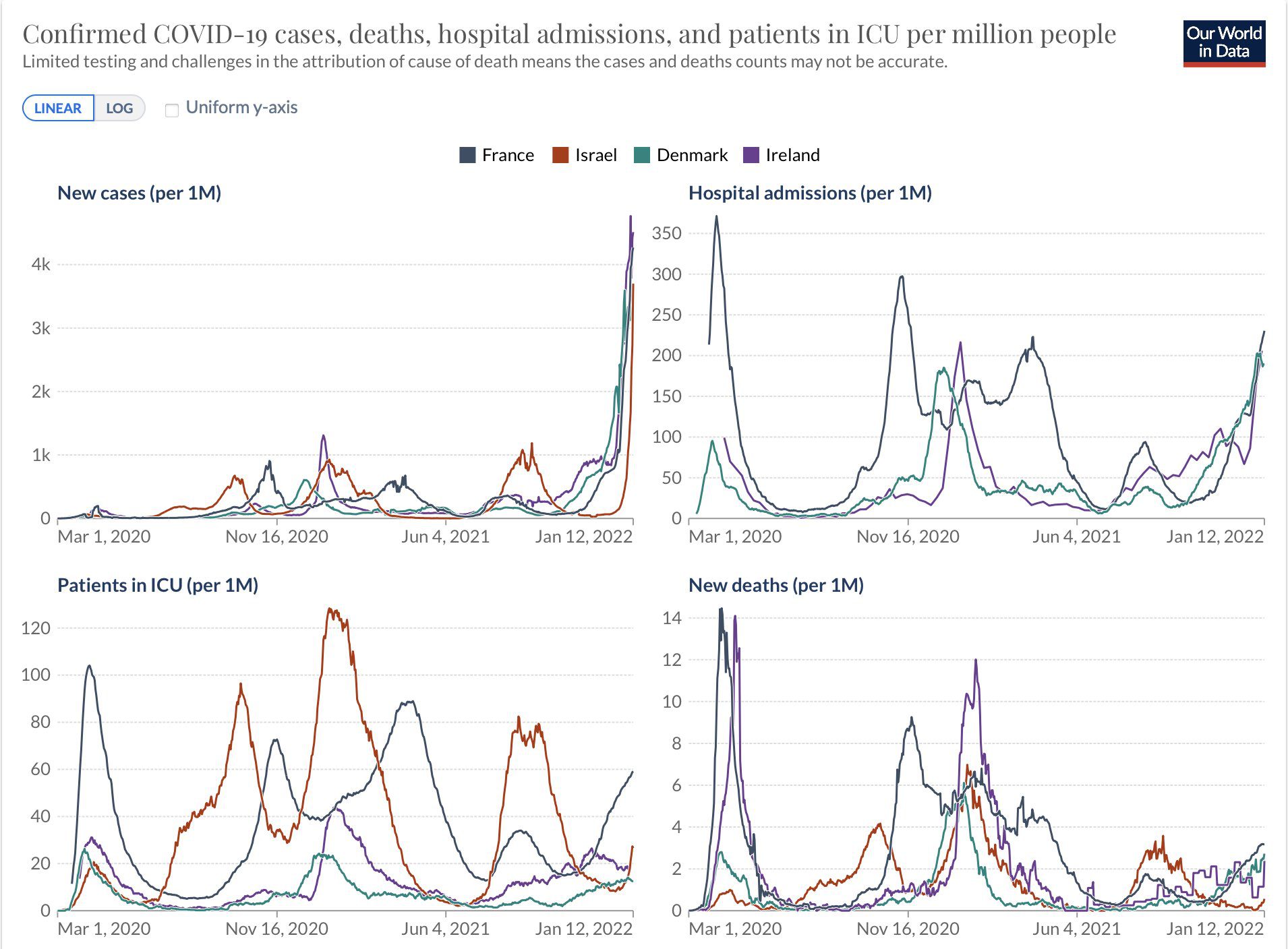 January 14, 2022 - 10:34 am
France, Israel, Denmark, and Ireland have the highest cases per capita of Omicron in the world. This shows what happens with massive surges of virus spread, even ones with 60-70% less severity.
Source: Dr. Eric Topol, Scripps Institute
Omicron variant rapidly becomes dominant variant of COVID in United States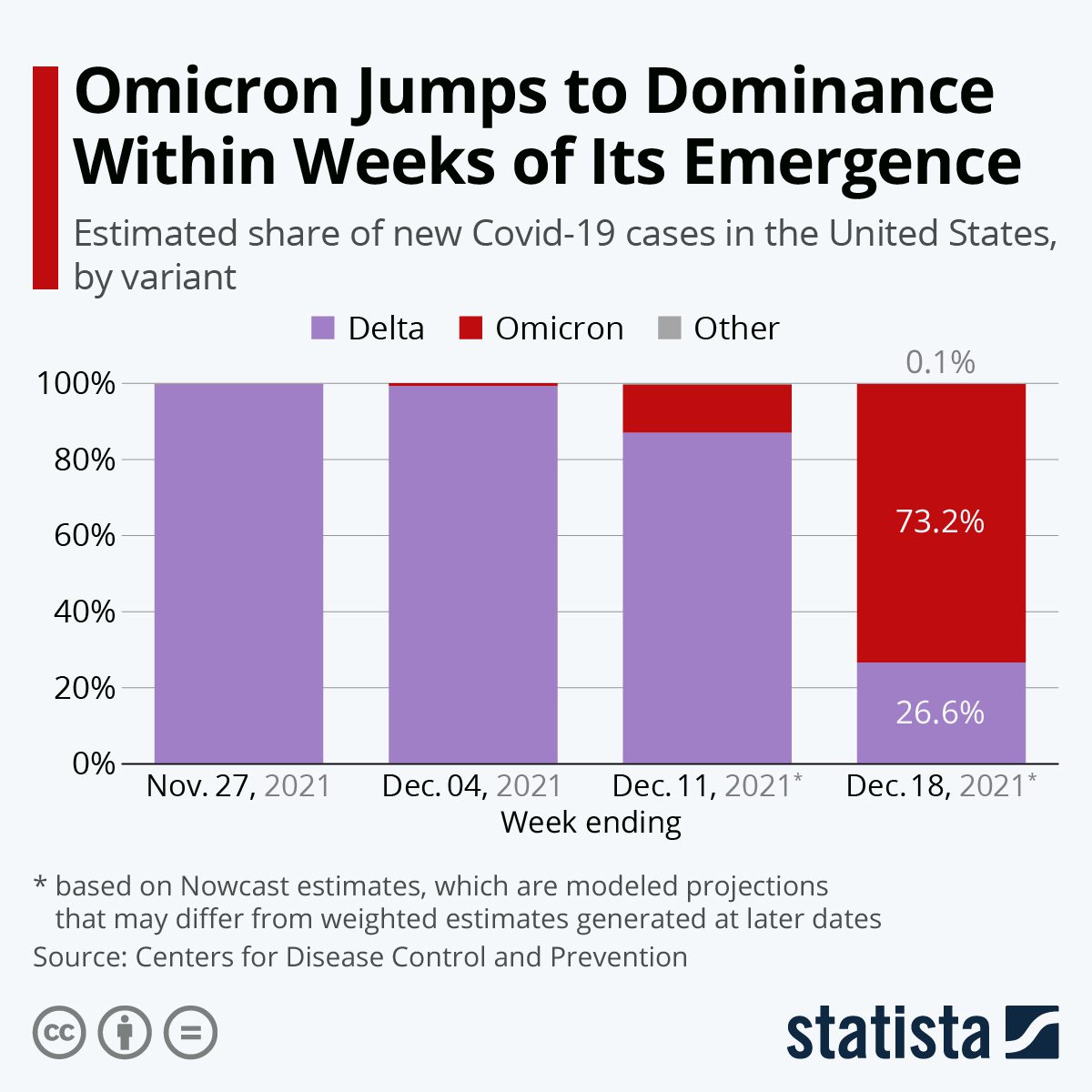 January 7, 2022 - 7:54 am
Weighted averages subject to change over time as modeled projections reflect later data.
Source: Centers for Disease Control and Prevention and Statista
Possible increase in interval between PCR and antigen testing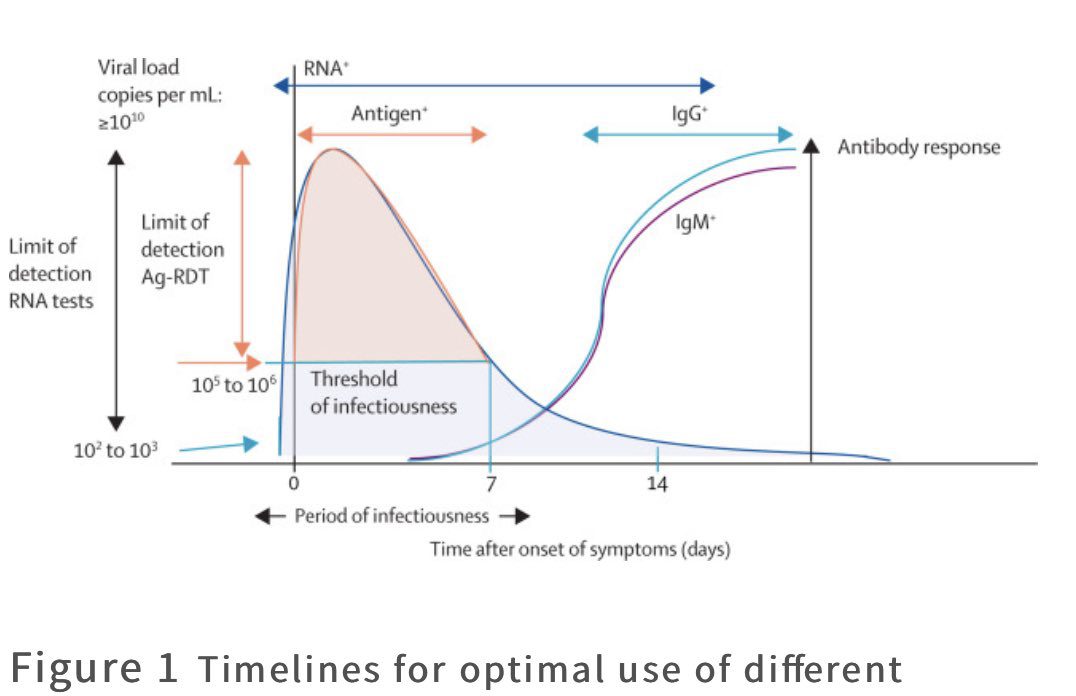 December 24, 2021 - 12:17 pm
Data suggests the interval between initial ability to detect COVID by PCR and later by antigen test has lengthened. Likely since more people have immunity, it takes the virus longer to replicate in mucosa and reach sufficient levels to generate a positive antigen test.
Source: Dr. Scott Gottlieb, referencing private, pre-published data
U.S. COVID death toll tops 800,000 as Omicron variant makes inroads into Delta's dominance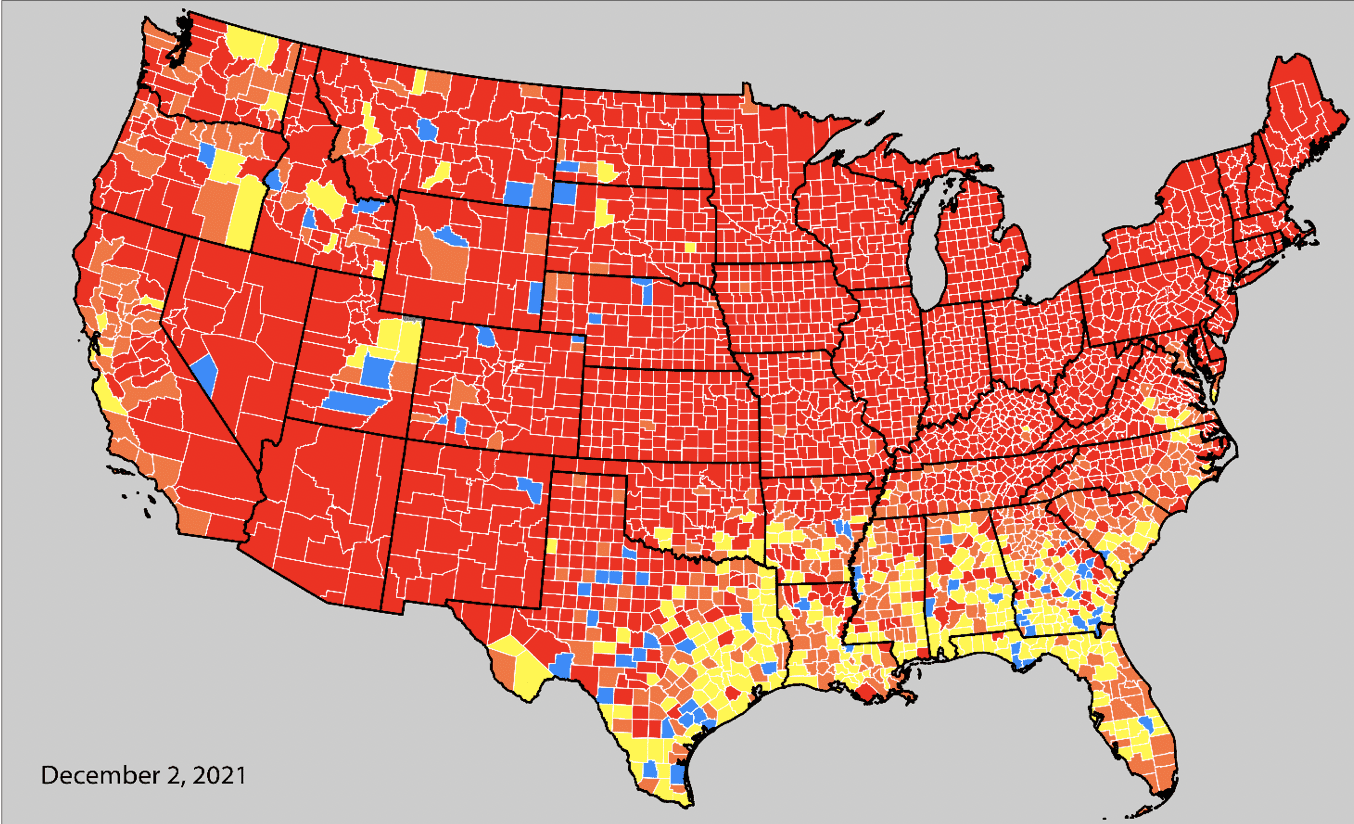 December 18, 2021 - 9:17 am
"Even if Omicron does cause less severe disease, the sheer number of cases could once again overwhelm unprepared health systems," World Health organization (WHO) Director-General Dr. Tedros Adhanom Ghebreyesus said.
Source: Johns Hopkins University
Data suggest mixing and matching vaccines enhance immune response against Omicron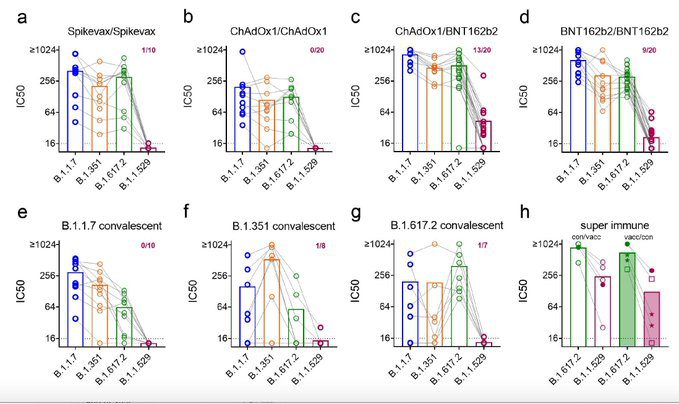 December 10, 2021 - 8:57 am
Source: Dr. Janine Kimpel and the Medical University of Vienna [data in pre-publication].
Number of COVID-19 Omicron variant cases in Europe as of November 29, 2021, by country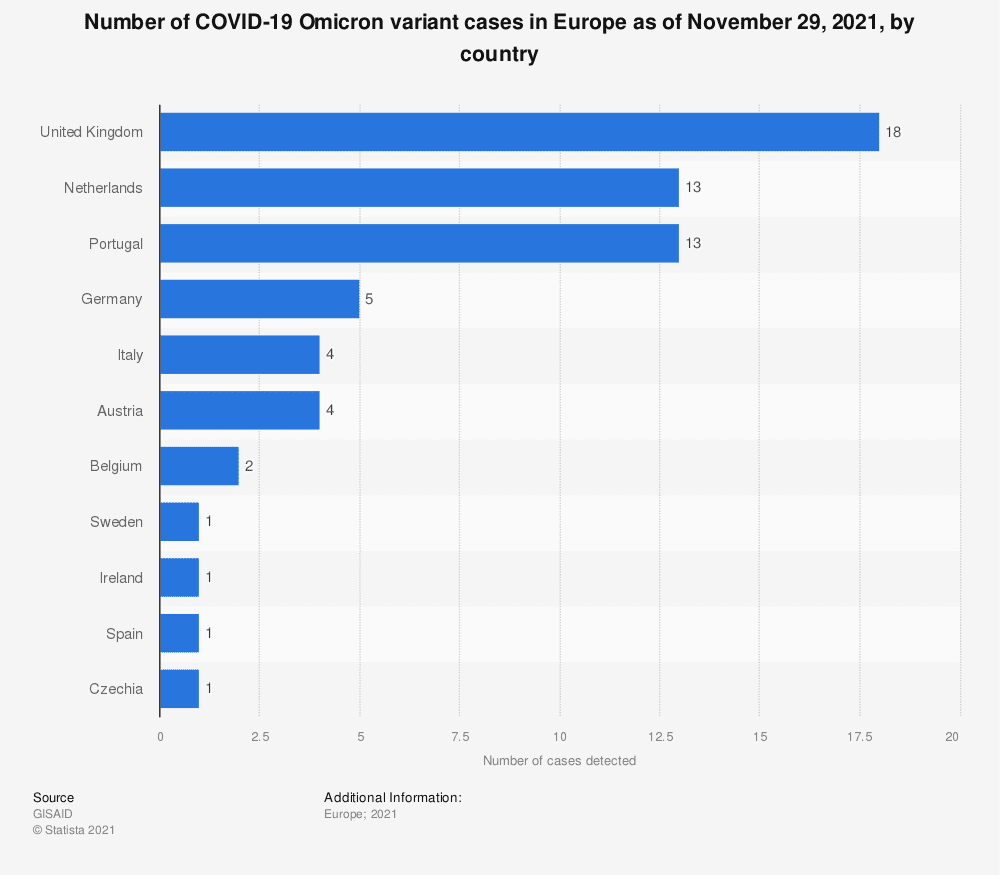 December 3, 2021 - 10:33 am
In late-November 2021, the Omicron variant of SARS-CoV-2 (the virus which causes COVID-19) was designated as a variant of concern by the World Health Organization due to fears about a higher transmissibility from the variant and a possible decrease in the effectiveness of vaccines against it.
Source: Statista
The 'kid effect' on COVID-19 cases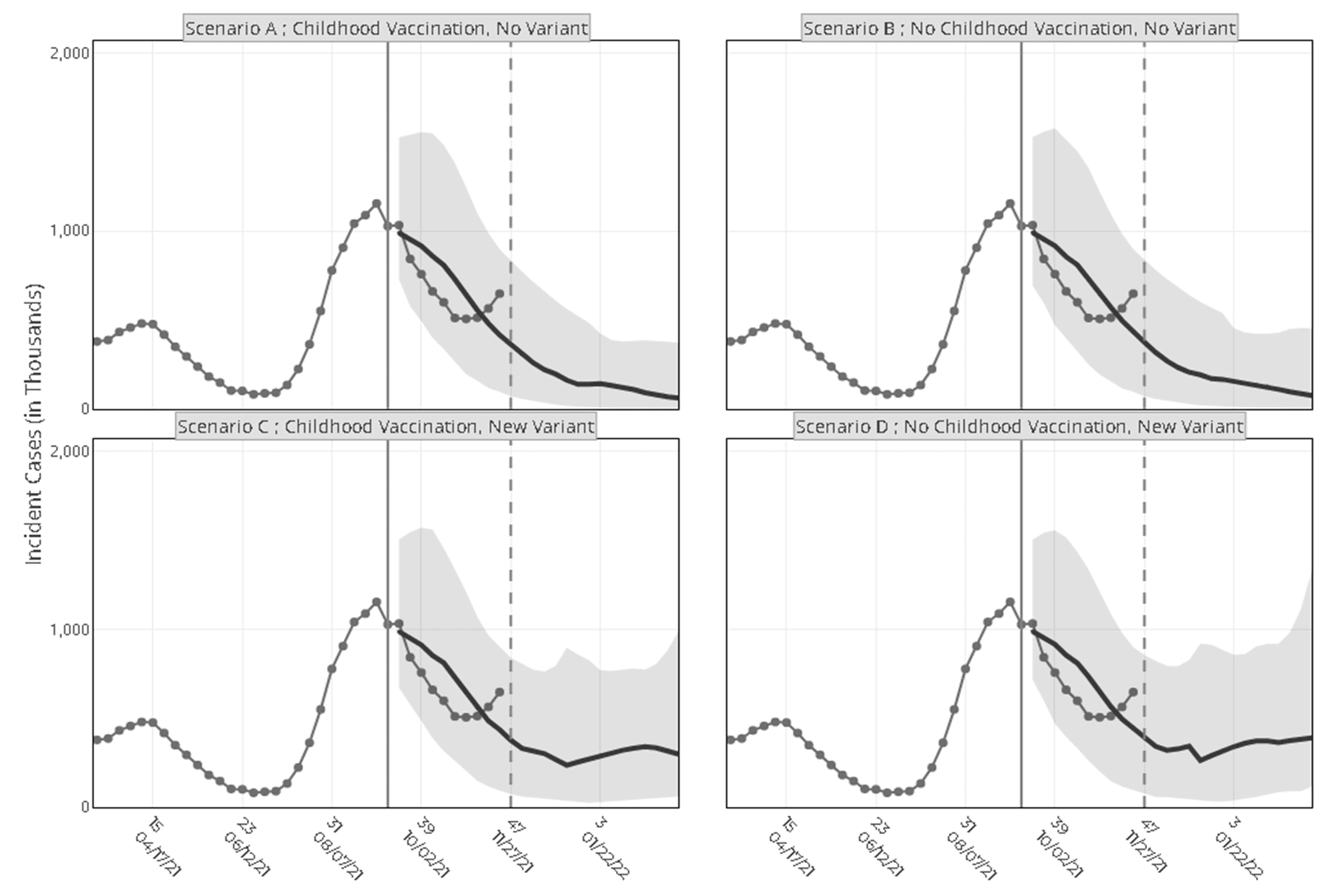 November 25, 2021 - 2:18 pm
Projected incident cases modeling outcomes in which new variants do or do not form and in which children are or are not vaccinated.
Source: COVID-19 Scenario Modeling Hub
Global meat supply per capita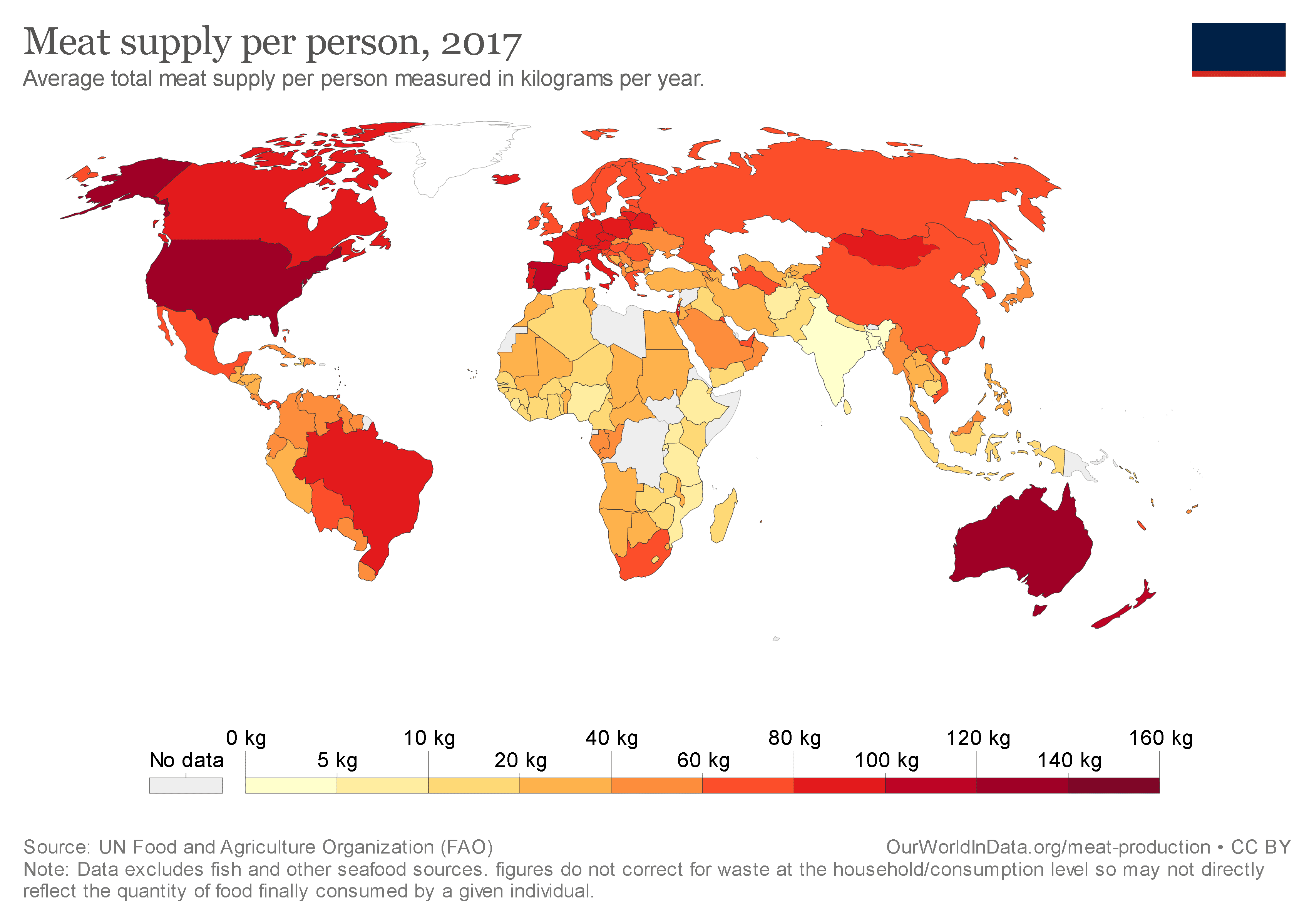 November 20, 2021 - 8:13 am
Source: UN Food and Agriculture Organization (FAO)
Medicare Advantage marches toward 70% penetration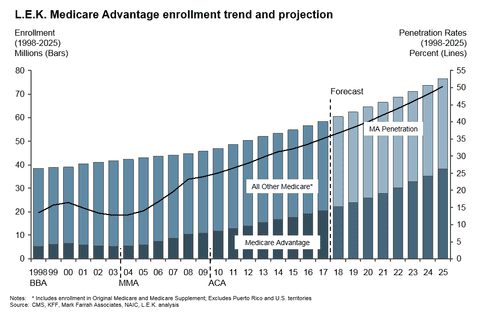 November 12, 2021 - 1:09 pm
Medicare Advantage is expected to continue its slow but steady growth, reaching 60% to 70% penetration sometime between 2030 and 2040.
Source:
LEK Consulting
Das Health
Full state-by-state guide to vaccine exemptions in the US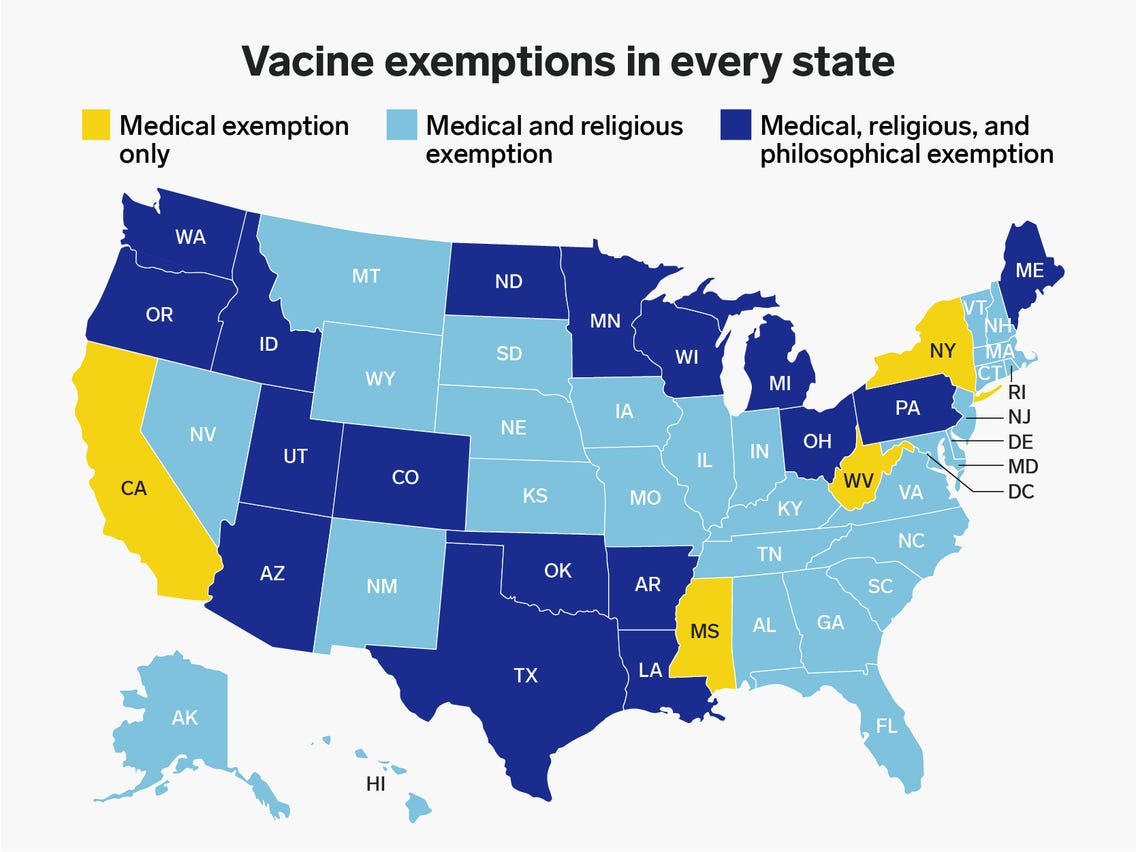 October 29, 2021 - 11:30 am
Source: National Vaccine Information Center
One in five Americans are unwilling to get vaccinated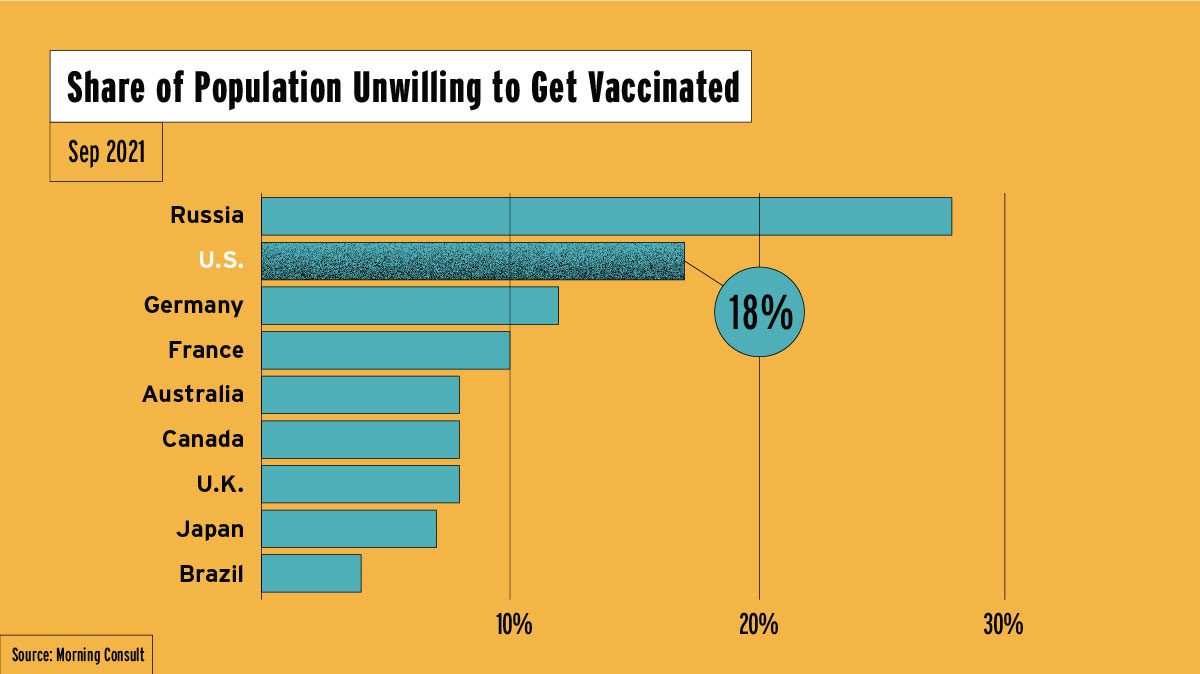 October 23, 2021 - 7:37 am
A September survey found that nearly one in five Americans are unwilling to get vaccinated.
Source: Morning Consult
Association between COVID-19 outcomes and mask mandates, adherence, and attitudes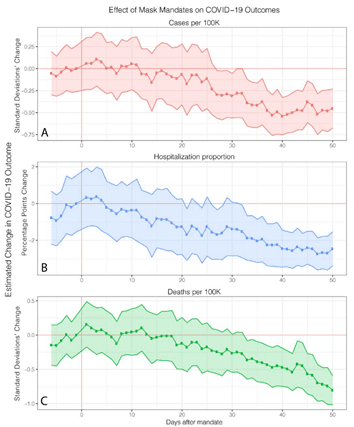 October 15, 2021 - 12:17 pm
Using an event study design, authors estimate the treatment effect of the introduction of mask mandates (shown on the vertical red line) on Z-scored population-normalized COVID-19 daily new confirmed cases, daily new hospitalization admissions proportion, and deaths across all 50 states and D.C. over the time period between February 1 and September 27, 2020.
Source: Dhaval Adjodah, Karthik Dinakar, Matteo Chinazzi, Samuel P. Fraiberger, Alex Pentland, Samantha Bates, Kyle Staller, Alex Vespignani, Deepak L. Bhatt. Association between COVID-19 Outcomes and Mask Mandates, Adherence, and Attitudes.
Vaccine effectiveness against COVID-19 infections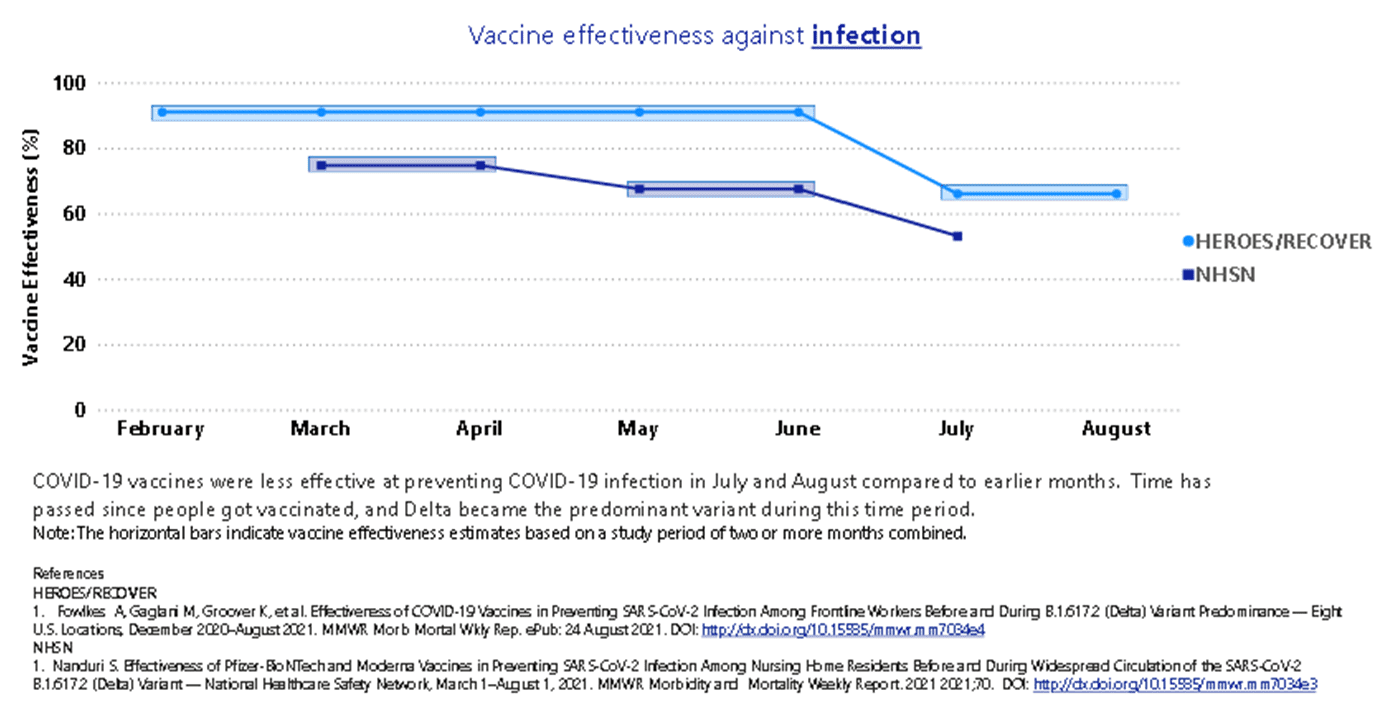 October 10, 2021 - 10:24 am
Differences in the virus, the host, and the study design can affect real-world vaccine effectiveness. CDC uses multiple methods to study vaccine effectiveness.
Source: Centers for Disease Control and Prevention COVID Data Tracker
Lifetime, annual, monthly, and daily prevalence of marijuana use by age.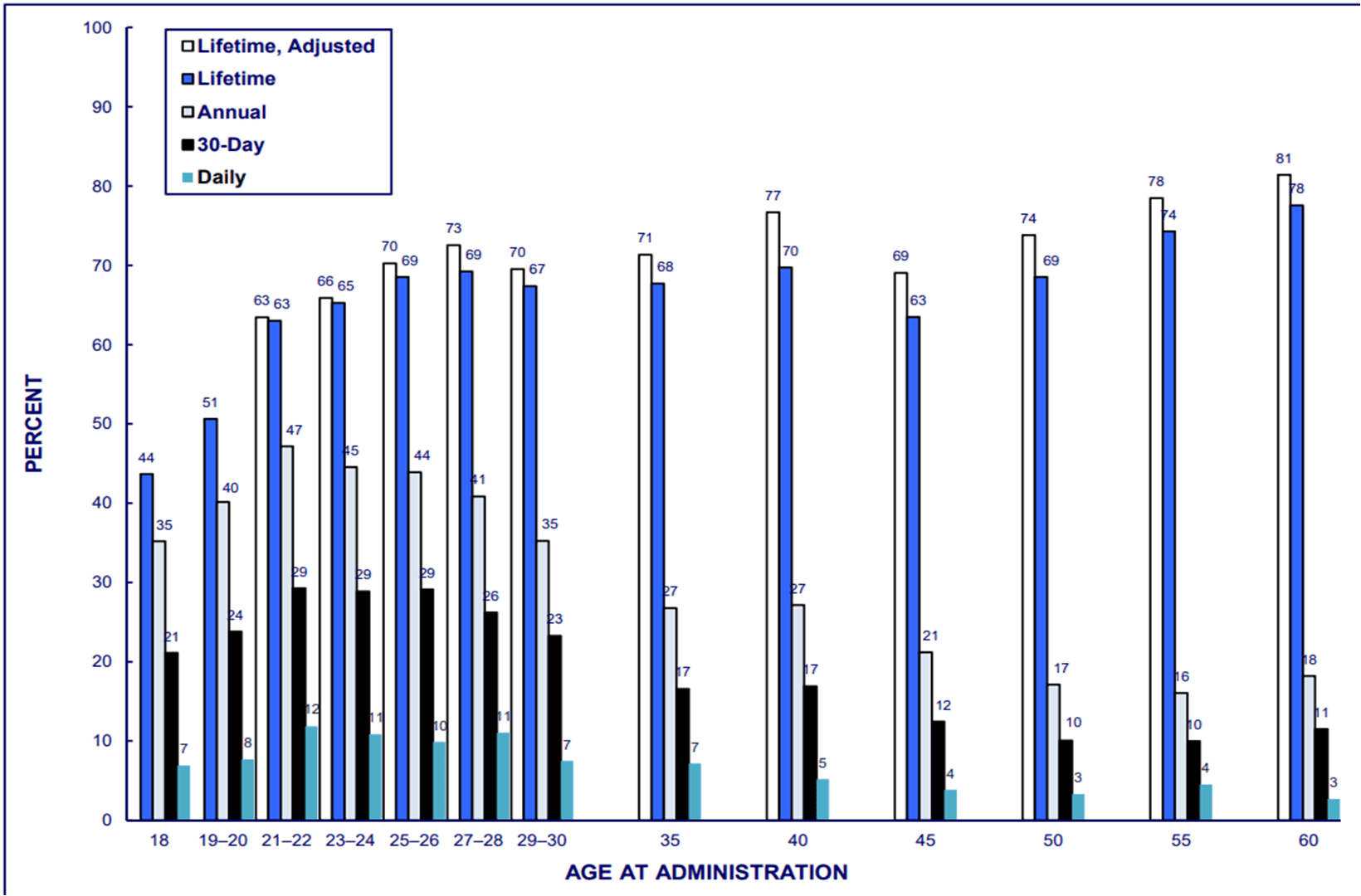 October 2, 2021 - 9:54 am
"The COVID-19 pandemic dramatically changed the way that young people interact with one another and offers us an opportunity to examine whether drug taking behavior has shifted through these changes," said NIDA Director Nora D. Volkow, M.D. "Moving forward, it will be critical to investigate how and when different substances are used among this young population, and the impact of these shifts over time."
Source: National Institute of Drug Abuse
Telemedicine trends before and during the pandemic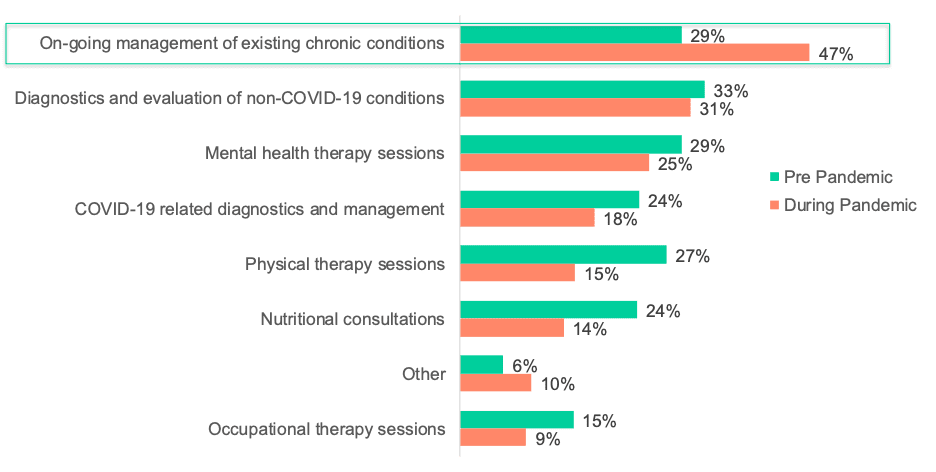 September 24, 2021 - 8:50 am
Telehealth has always been in US physicians' toolkit – but until COVID-19 adoption was relatively slow. In an early-2019 poll 66% of Americans were willing to use telehealth – but only 8% had actually done so. Use among the physician community tended toward remote diagnostics and remote monitoring as opposed to more routine patient interactions.
Source: Harris Poll, American Well
Total vaccine doses per 100 people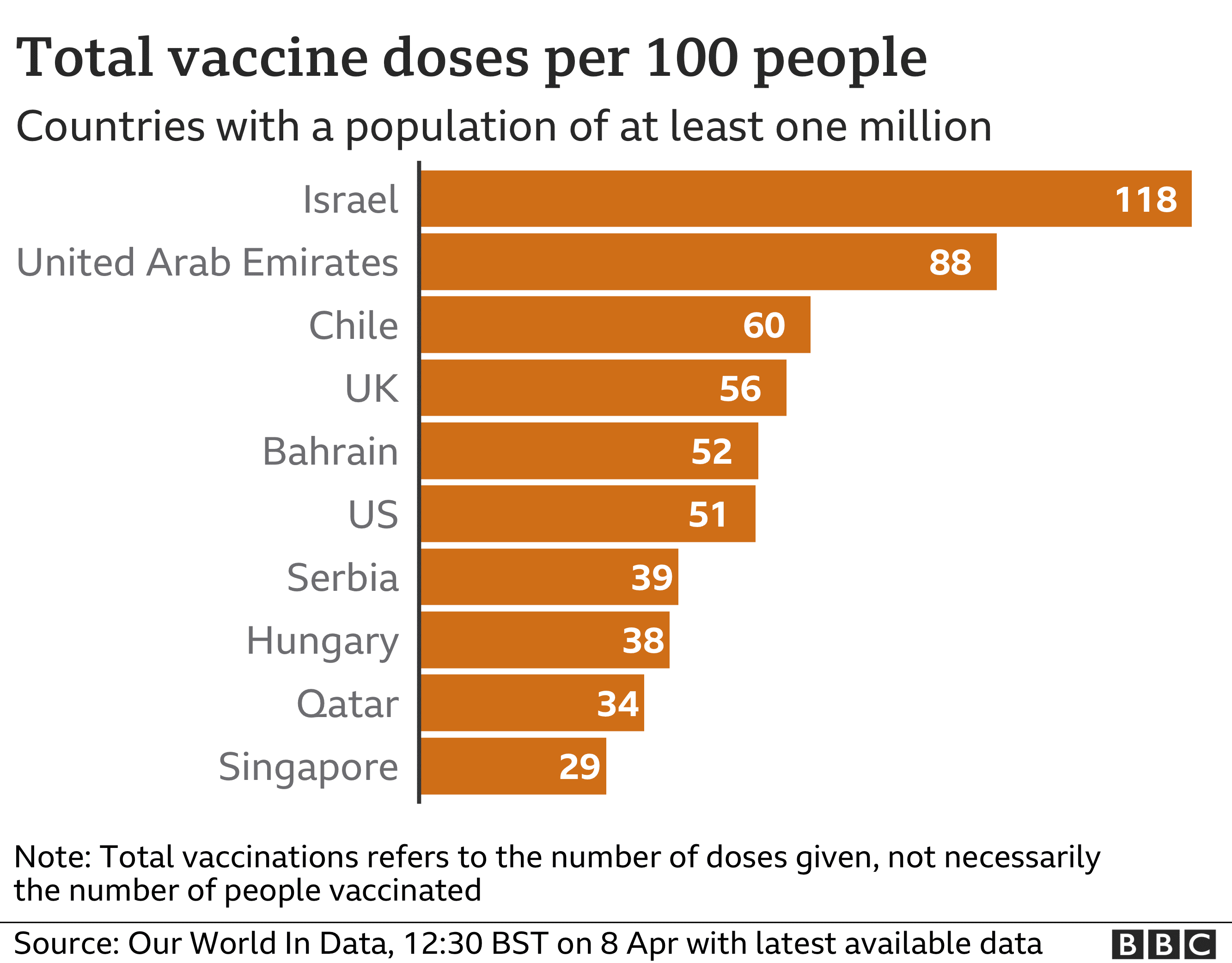 September 17, 2021 - 8:42 am
"There remains a shocking imbalance in the global distribution of vaccines," WHO Director General Tedros Adhanom Ghebreyesus told a news conference.
Source: BBC News
Vaccine hesitancy by zip code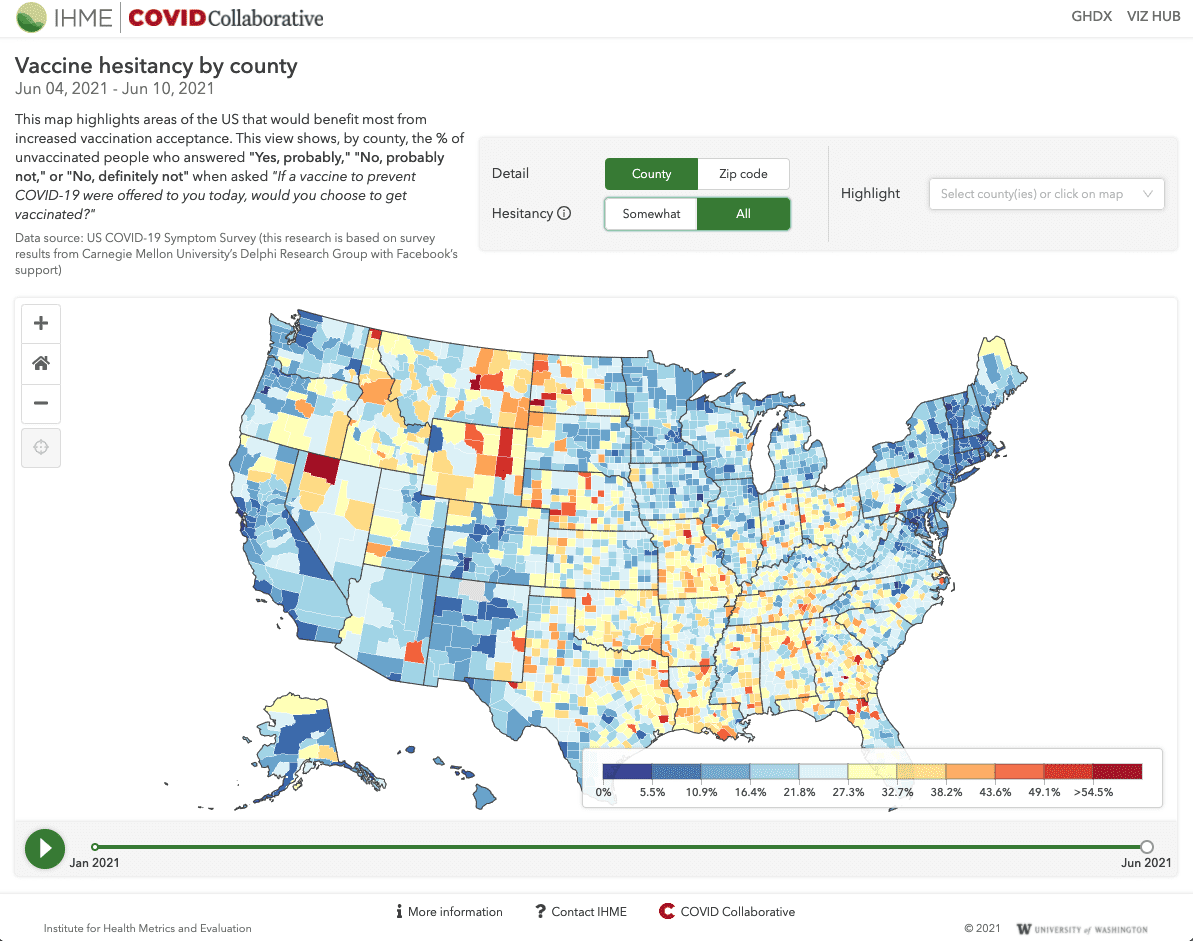 September 10, 2021 - 11:40 am
Highlights areas in the United States that would benefit from increased vaccine acceptance.
Source: US COVID-19 Symptom Survey
Global vaccination timeline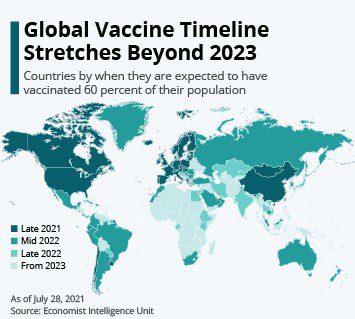 September 3, 2021 - 9:48 am
Timeline predicting when each country will have 60% of their population vaccinated.
Source: Statista & Economist Intelligence Unit
Hospitalization rates relative to vaccination rates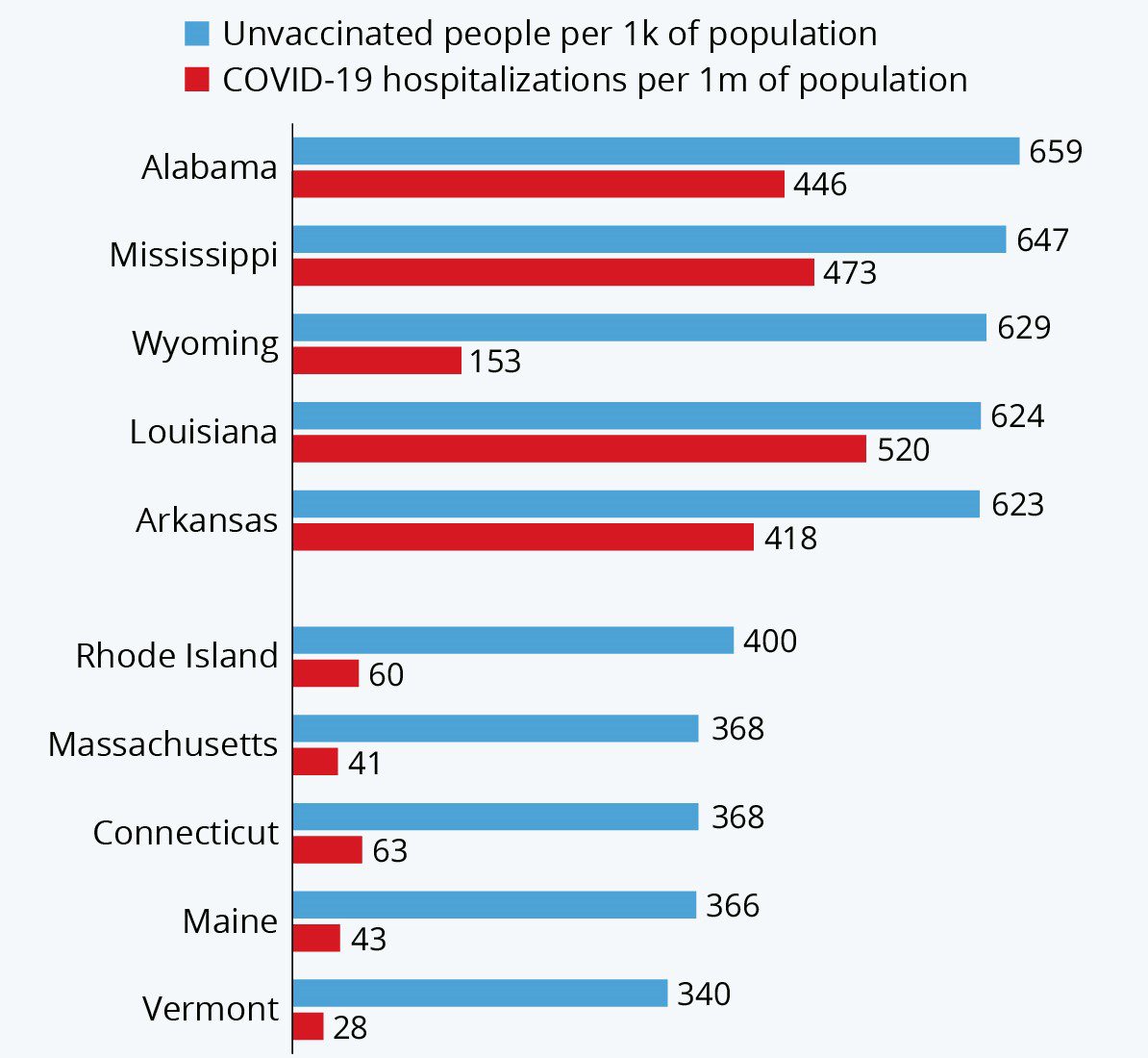 August 20, 2021 - 8:38 am
A comparison of hospitalization data from the Centers for Disease Control and Prevention and vaccination numbers collected by Our World in Data shows that hospitalizations tend to be significantly higher in U.S. states where large numbers of unvaccinated people remain.
Source: Statista
Beneficiaries receiving medical care for an opioid overdose.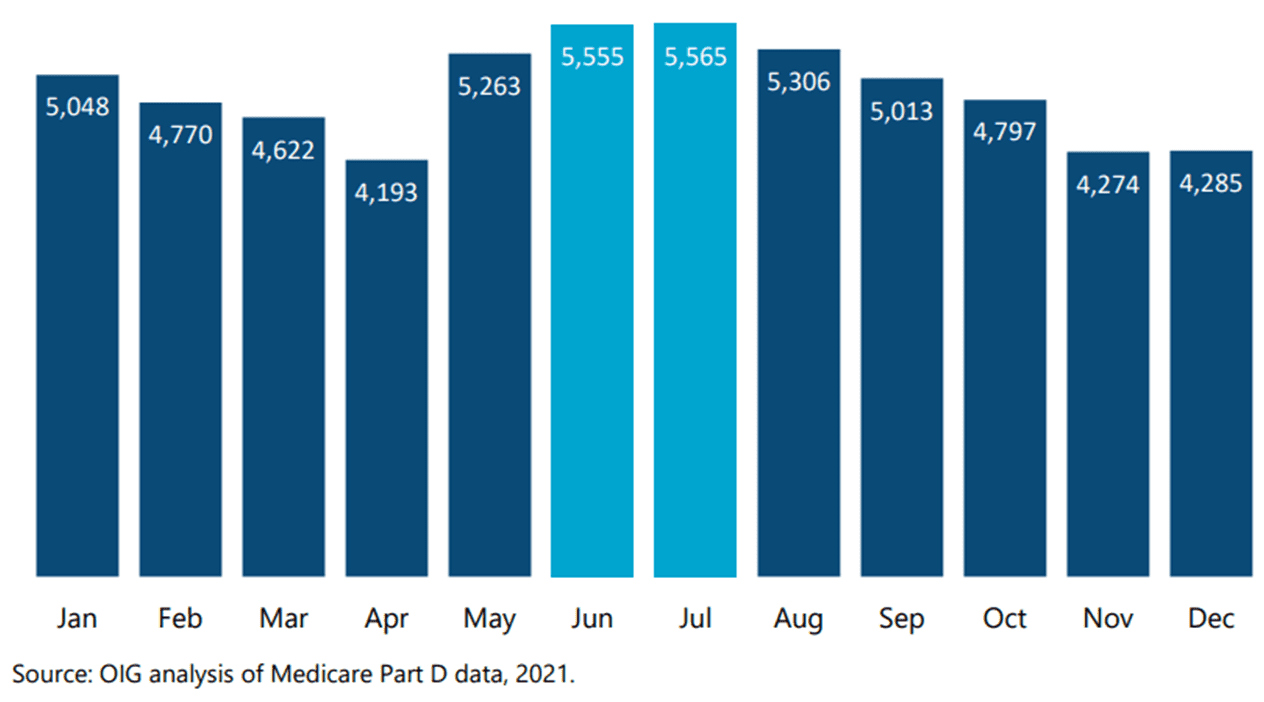 August 15, 2021 - 2:00 pm
The number of beneficiaries receiving medical care for an opioid overdose peaked in the summer of 2020.
Source: Office of Inspector General
State PDMP's increase rates of opioid overdose

July 31, 2021 - 6:31 pm
The inception of PDMP's has been followed by increasing rates of opioid overdose and stable rates of drug addiction.
Source: Reason.org
IHME model extends to November 01, 2021 – predicts Fall upswing in mortality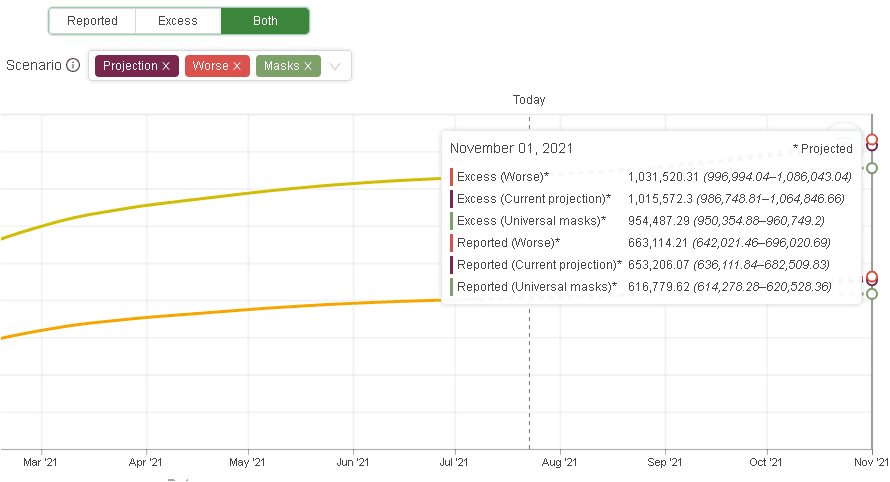 July 23, 2021 - 8:47 am
Mortality expected to increase 3x from current levels.
Increase in excess deaths attributed to spread of Delta variant.
Source: IHME
Changes in Care Delivery During the COVID-19 Pandemic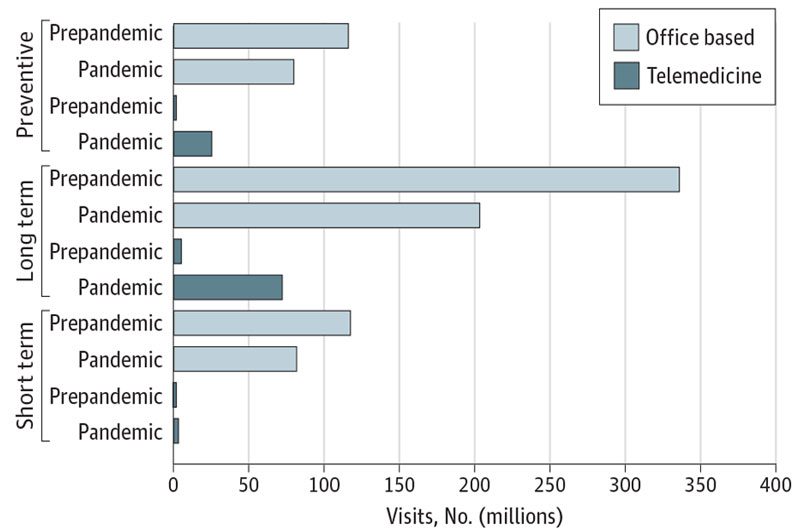 July 9, 2021 - 8:16 pm
Changes in Care Delivery in US Office-Based and Telemedicine Visits During the COVID-19 Pandemic
Cecilia Cortez; Omar Mansour, MHS; Dima M. Qato, PharmD, PhD; et al
12 Month-ending Provisional Number of Drug Overdose Deaths by Drug or Drug Class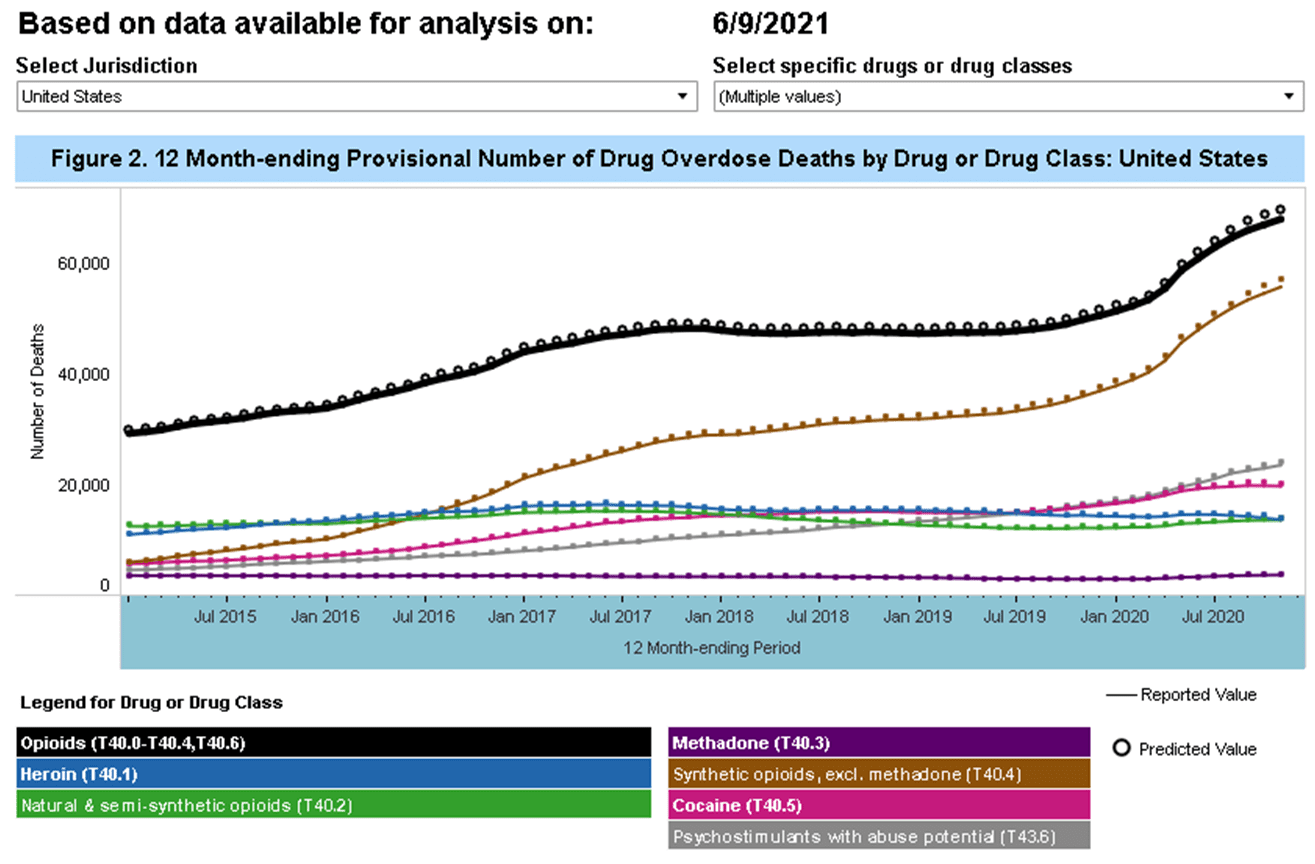 June 25, 2021 - 3:56 pm
CDC drug overdose data.
Opioid epidemic in one chart – correlation conflated with causation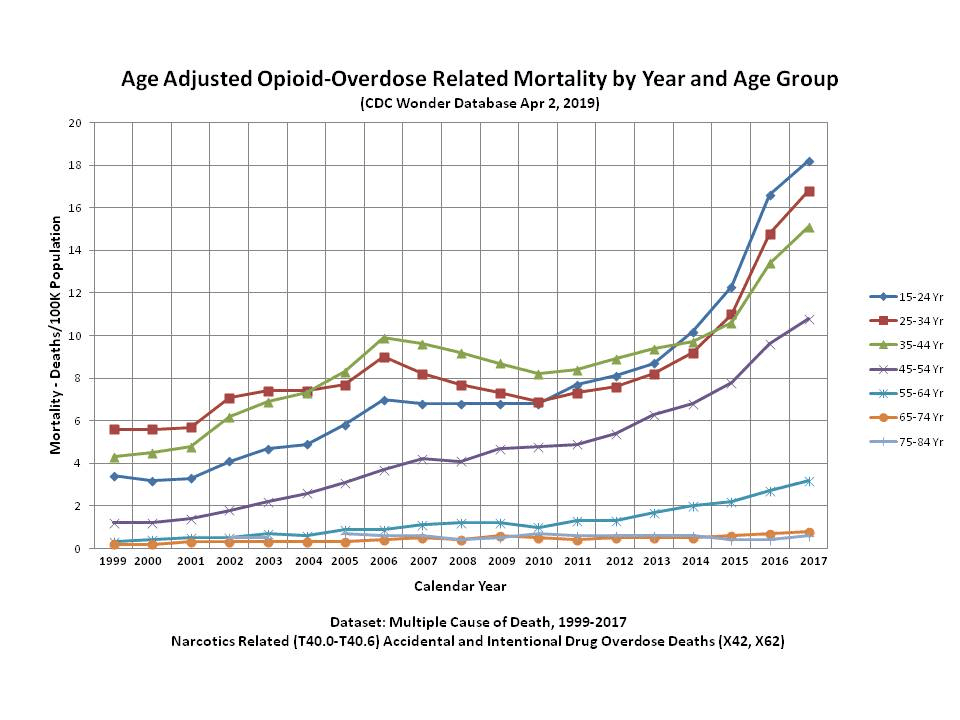 June 11, 2021 - 11:12 am
There is no cause-and-effect relationship between prescribing and overdose mortality. But millions of patients are being denied safe and effective pain care.
Seniors over age 62 are prescribed opioids for pain three times more often than youth under age 19. But youth have overdose rates three times higher than seniors. No medical model can explain these demographics.
Source: Richard A Lawhern, PhD, Patient Advocate
State by state mental health access ranking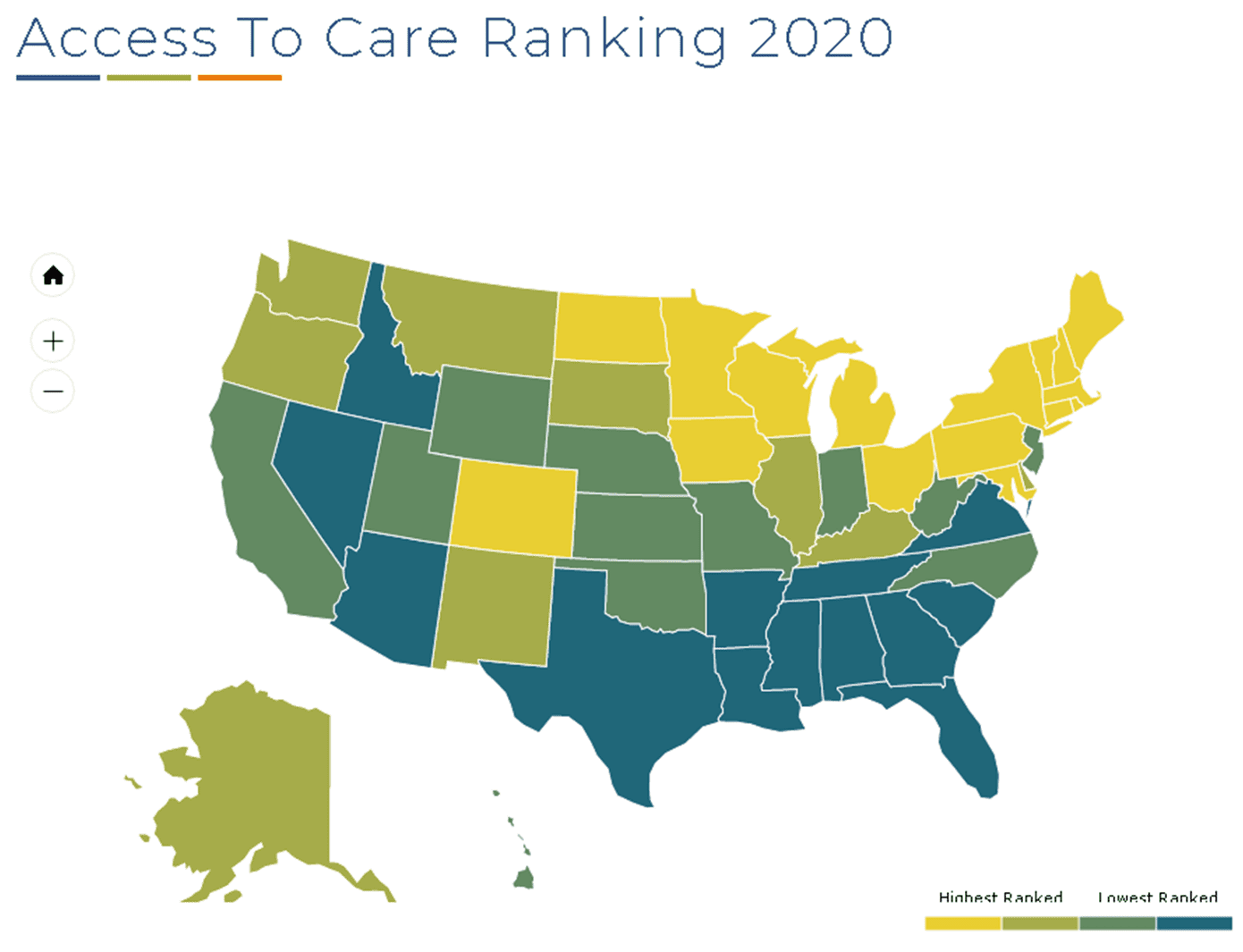 June 5, 2021 - 9:35 pm
The Access Ranking indicates how much access to mental health care exists within a state. The access measures include access to insurance, access to treatment, quality and cost of insurance, access to special education, and workforce availability. A high Access Ranking indicates that a state provides relatively more access to insurance and mental health treatment.
The 9 measures that make up the Access Ranking include:
Adults with AMI who Did Not Receive Treatment
Adults with AMI Reporting Unmet Need
Adults with AMI who are Uninsured
Adults with Disability who Could Not See a Doctor Due to Costs
Youth with MDE who Did Not Receive Mental Health Services
Youth with Severe MDE who Received Some Consistent Treatment
Children with Private Insurance that Did Not Cover Mental or Emotional Problems
Students Identified with Emotional Disturbance for an Individualized Education Program
Mental Health Workforce Availability
Source: Mental Health America
US consumer sentiment during the coronavirus crisis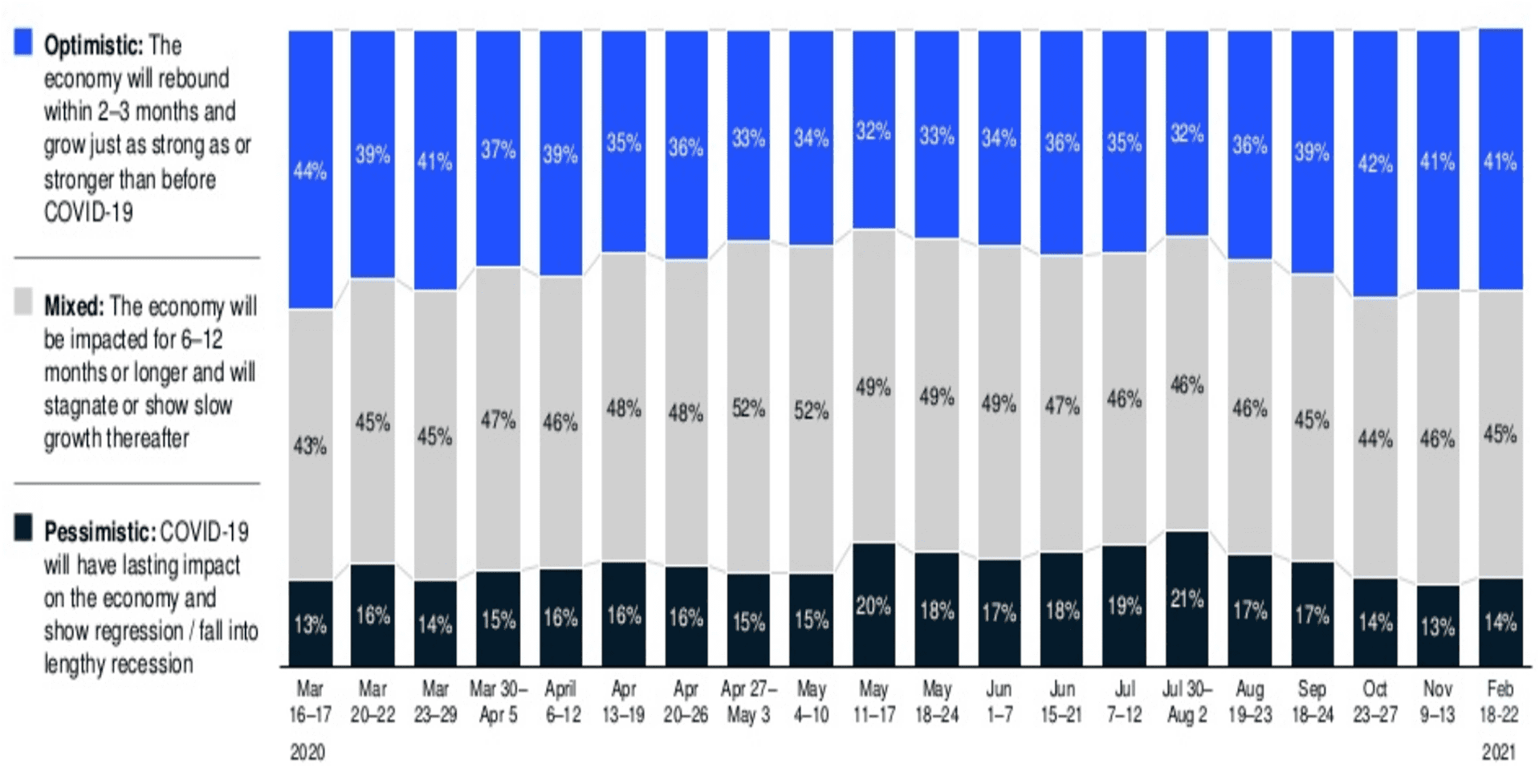 May 28, 2021 - 6:01 pm
Of the three quarters of Americans who changed their shopping behavior since COVID-19 began, around 40 percent say they have changed brands, with the level of brand switching doubling in 2020 compared to 2019. These switching behaviors are more prevalent among Gen Z and millennial consumers than with boomers (44 percent of Gen Z and millennials have tried a new brand, versus 35 percent of boomers).
Convenience and value have been the main drivers of shopping behavior change; however, quality and seeking brands that match with their values also inspire change for about 40 percent of younger consumers.
While growth in consumer goods was driven by large companies at the beginning of the pandemic, we see that brands from smaller companies are increasingly driving growth in late 2020 and early 2021.
Source: McKinsey & Co.
Pre-pandemic Trust and Mistrust in Americans' Views of Scientific Experts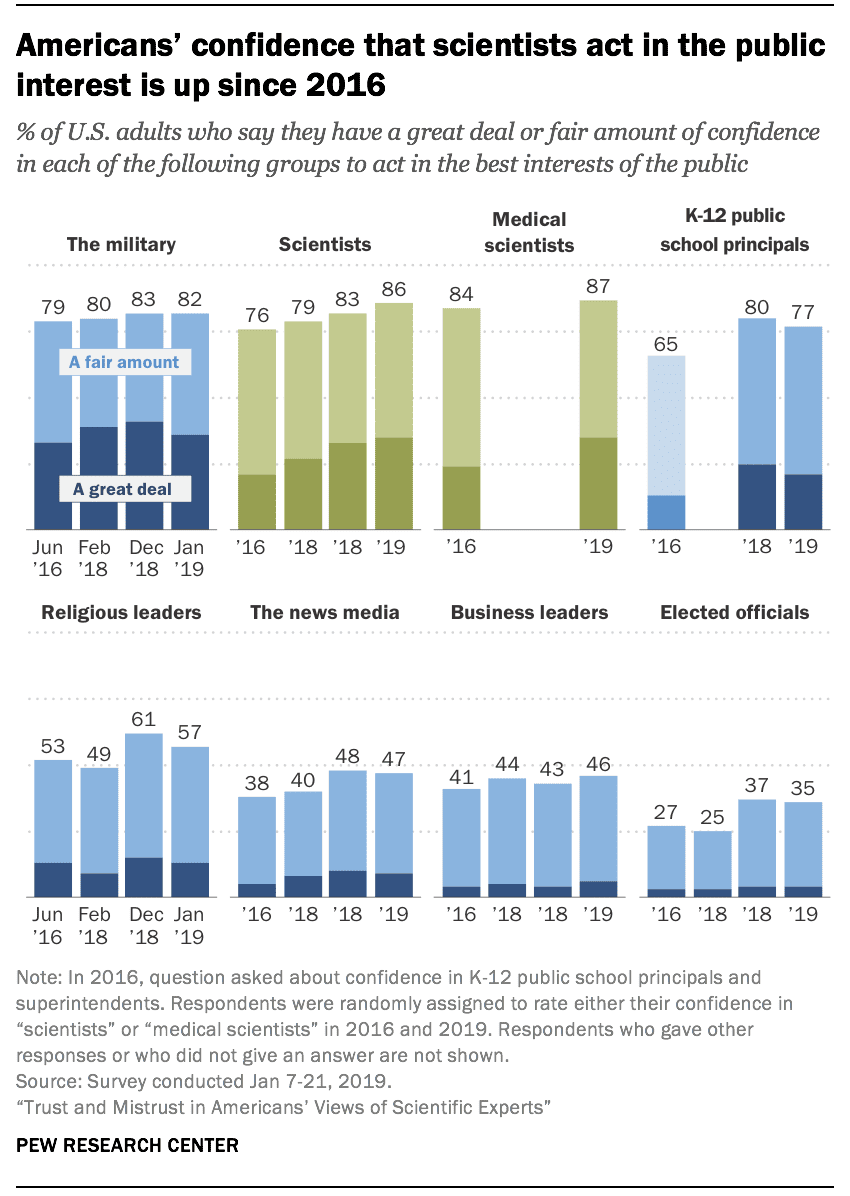 May 14, 2021 - 8:33 pm
More Americans have confidence in scientists, but there are political divides over the role of scientific experts in policy issues
In an era when science and politics often appear to collide, public confidence in scientists is on the upswing, and six-in-ten Americans say scientists should play an active role in policy debates about scientific issues, according to a new Pew Research Center survey.
The survey finds public confidence in scientists on par with confidence in the military. It also exceeds the levels of public confidence in other groups and institutions, including the media, business leaders and elected officials.
At the same time, Pre-pandemic Americans are divided along party lines in terms of how they view the value and objectivity of scientists and their ability to act in the public interest. And, while political divides do not carry over to views of all scientists and scientific issues, there are particularly sizable gaps between Democrats and Republicans when it comes to trust in scientists whose work is related to the environment.
Confidence in scientists is stronger among those with high science knowledge and among DemocratsHigher levels of familiarity with the work of scientists are associated with more positive and more trusting views of scientists regarding their competence, credibility and commitment to the public, the survey shows.
Source: Pews Research
Healthcare's disjointed labor needs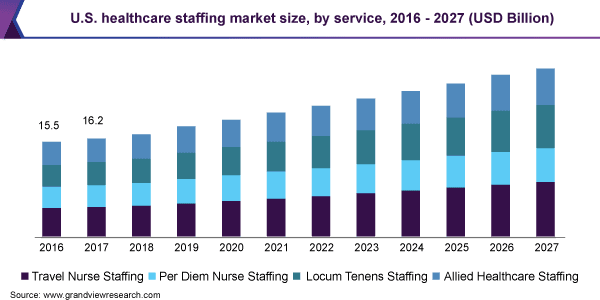 May 8, 2021 - 10:51 am
The U.S. healthcare staffing market size was valued at USD 17.0 billion in 2019 and is estimated to expand at a CAGR of around 5% over the forecast period. Some of the factors responsible for the market growth are increasing demand for temporary staffing for healthcare professionals due to the rising geriatric population and lack of skilled nursing staff across the country.
An increase in life expectancy has led to a rise in the geriatric population. According to the National Institutes of Health, the number of people aged 65 years and above in U.S. is projected to nearly double from 48 million to 88 million by 2050. An aging population is expected to have a significant impact on healthcare delivery because they are highly susceptible to lifestyle diseases and chronic conditions.
According to a report published on the National Center for Biotechnology Information, there will be a shortage of physicians and nurses in U.S. in various health specialty fields. Moreover, according to the Bureau of Labor Statistics (BLS), over the next decade, approximately a million new nurses would be required to fill the vacancies resulting from retiring nurses and to meet the increasing demand.
Technology is currently one of the major drivers for increased healthcare employment. Advancements in healthcare have led to various innovations, such as medical informatics and telehealth, which have increased the need for the skilled labor force to handle both technical and non-technical aspects of these devices. Hence, recruitment of new professionals along with training of existing ones has become essential.
According to a study published by the Center for Connected Health Policy, the number of telemedicine related legislation pieces introduced in the 42 U.S. states was 200 in 2015. The CMS is expanding Medicare coverage for telemedicine, for instance, in 2017, CMS declared reimbursement to Remote Patient Monitoring (RPM) service providers. These factors are anticipated to boost the demand for healthcare staffing for home healthcare.
Source: Grand View Research
Vaccination rates vary by county, determined by local factors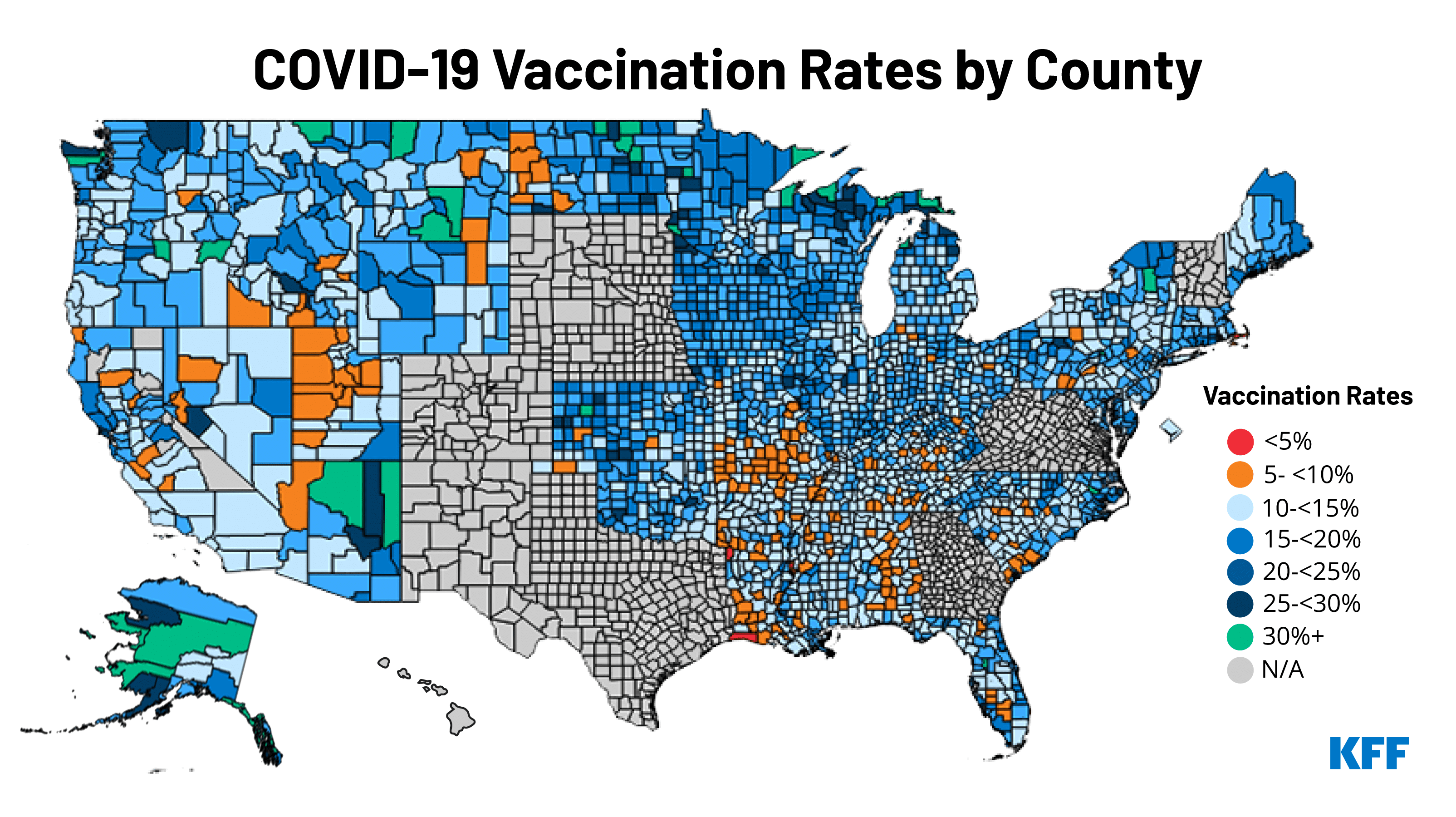 May 1, 2021 - 7:26 pm
COVID-19 has disproportionately affected certain underserved and high-risk populations, including people of color, those with underlying health conditions, and those who are socioeconomically disadvantaged. Ensuring access to COVID-19 vaccines for these communities can help address the disparate health effects of the virus and achieve herd immunity.
The Biden administration has identified vaccine equity as a priority, but states and local jurisdictions vary in how and the extent to which they prioritize equity. Given that vaccine roll-out in the U.S. is inherently local, understanding how vaccination rates vary at the local level is important for informing outreach efforts and addressing equity.
Earlier CDC analysis found that, as of early March, counties with high social vulnerability had lower vaccination rates than counties with low social vulnerability.
Source: Kaisesr Permanente Foundation
Mapping global oxygen shortages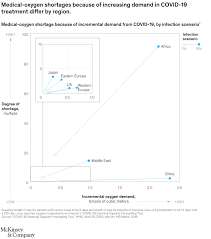 April 24, 2021 - 1:07 pm
Despite using oxygen medically for over 100 years and WHO classifying it as an essential medicine in 2017, large population groups, especially in developing countries, do not have access to adequate supplies. WHO has consistently raised alerts about the ongoing and persistent shortages in Africa, the Middle East, and other developing regions. The adverse impact of the shortage is most critically felt in neonatal care, with an estimated half a million newborns around the world dying annually from oxygen shortages.
As COVID-19 patient-care protocols have evolved, medical-grade oxygen is considered essential to treatments for critically ill patients, such as invasive ventilation and low- and high-flow oxygen therapies. In regions such as Africa and the Middle East, the surge in demand for medical oxygen to treat COVID-19 exacerbates preexisting gaps in medical-oxygen supplies, leading to substantial supply shortages. Even though these regions may have lower incremental demand for oxygen to treat COVID-19 than, say, China, their lower preexisting supplies will contribute to greater shortages.
Source: McKinsey & Co.
Vaccine Passports: what we need to know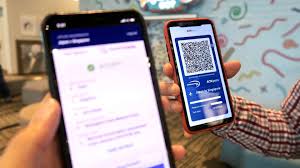 April 17, 2021 - 6:58 am
The COVID-19 pandemic has killed more than half a million people in the US and has seriously impacted our daily lives. The granting of Emergency Use Authorizations for COVID-19 vaccines has been a game changer in helping to reverse the pandemic onslaught. Demand for the vaccines currently far exceeds supply nationwide. They have become the golden ticket that can transport us back to a time when routine activities, such as attending school or taking vacations, didn't seem fraught with danger. What's the best way to go about re-establishing these activities? One idea that's getting discussed seriously is giving those who have been immunized a vaccination passport (VP).
What is a vaccination passport?
Let's start by clarifying some terminology. VPs are documents that show that someone has been given a vaccine(s) and is therefore presumed to be immune from getting and sharing that disease. These are distinct from diagnostic tests to determine if a person is or is not infected with a particular virus (PCR and viral antigen tests) or has been exposed to a virus (antibody tests). VPs are the modern day equivalents of the "letters of transit" that played a key role in the film Casablanca. They'll enable you to travel freely.
Why give vaccine passports?
Vaccinated people are unlikely to transmit the virus that causes COVID-19 with others, though this has yet to be definitely proven. So, what's the primary rationale for giving vaccination passports? It seems the goal is to incentivize people to get vaccinated. Folks might be more likely to seek out the vaccine if it bestows upon them certain privileges, such as being able to travel freely. While the idea might sound appealing at one level, the road to vaccine passports is pockmarked with political potholes and littered with logistical land mines.
Administrative issues
There are a lot of important questions that need to be answered before VPs can become widespread; it's unlikely there will be a "one size fits all" solution. What might VPs look like? Pieces of paper (that could easily be lost or counterfeited), or a digital key or document you store on your smartphone (that many older folks still don't have)? If you lost one, how would you get it replaced? Would your vaccination records be tied to your other medical records, and if so, what kind of privacy and security protections would be needed to safeguard your data? How would the passport administrator verify that you got vaccinated in the first place? Who is responsible for correcting any errors that crop up? Given how much we've struggled as a nation to simply solve the scheduling of vaccinations, VPs might be significantly more difficult to manage.
Who's going to run the program?
A coalition of health tech leaders (including Epic, the Mayo Clinic, Microsoft and Salesforce) has started the Vaccination Credential Initiative to create an internationally accepted digital health card. Its vision – as stated on its website – is "to empower individuals to obtain an encrypted digital copy of their immunization credentials to store in a digital wallet of their choice. Those without smartphones could receive paper printed with QR codes containing World Wide Web Consortium (W3C) verifiable credentials." Some European countries (e.g. Denmark) are working on developing their own immunization passports, and the President of the European Union Commission has voiced support for them.
We already have a hodgepodge system designed to keep folks with COVID-19 from traveling. Many airlines are requiring proof of non-infectivity to board a plane – these are distinct from VPs. The methods adopted vary from airline to airline: United uses Travel Ready Center, American uses VeriFly while others use Common Pass. Saga cruises are the first in the UK to demand proof of vaccination, but not everyone is on board with the concept. The World Travel and Tourism Council stated its opposition to allowing travel only by those who have been vaccinated, on the grounds that it is discriminatory.
Discrimination concerns
The concept of gaining advantage from one's immunological status is not a new one. In New Orleans in the mid 19th century, great economic value was attached to those who survived the onslaught of epidemic waves of yellow fever. A mix of structural racism and a system valuing "immunocapital" ranked men and women highly if they were yellow fever survivors. Those that had not had the disease yet found it difficult to obtain work or obtain credit and women could not marry. Slaves were similarly revalued, with larger assessments attached to survivors. This legacy of viral discrimination casts a long shadow over current discussions surrounding vaccination passports.
Also problematic is the fact that not everyone will be eligible for VPs. Some people can't be vaccinated for medical reasons but would still like to participate in whatever activities the passports enable (such as travel opportunities). These individuals will likely file complaints if they are denied VPs, arguing that they're discriminatory in nature. Vaccine opponents will no doubt also file lawsuits seeking to block the use of VPs, claiming they represent an attack on their freedoms and personal choice.
Others may be shut out of VP programs because they don't have the computer skills to register online, a problem that's turned out to be widespread with the vaccinations. Don't have any ID? In some places this prevents the most vulnerable from getting the COVID-19 vaccine, and therefore VPs as well. Many Black and marginalized communities are already deeply suspicious of the medical establishment, and wary of receiving a COVID-19 vaccine. Restrictions that prevent these groups from participating in various societal activities because they don't have VPs will echo the Jim Crow days of poll taxes and literacy tests that were required to vote.
Enforcement issues
VPs bring up a similar issue as mask mandates: who is going to enforce them? It is one thing for a cruise line to do so, since reservations are required and extensive paperwork needs to be filled out in advance. Who is going to keep non-vaccinated people out of restaurants or concerts that require proof of vaccination? We've already seen anti-maskers storm department stores, ignore requirements to wear masks on planes and even kill a security guard who confronted them.
Black market for vaccine passports
Many airlines are now requiring proof of a negative COVID-19 test before they will let their customers fly. This has led to a black market for fake negative COVID-19 test results for those who are looking to game the system. Similarly, bogus cards claiming that the cardholder was exempt– for medical reasons – from having to wear a mask, have been manufactured and distributed. It's not hard to imagine that a similar market will emerge for VPs.
Overcoming vaccine hesitancy
Given the multitude of issues and concerns listed above, moving forward with issuing vaccination passports seems highly problematic. If the primary purpose of having VPs is to drive up immunization rates, that can be better accomplished by running public service announcements and ads illustrating how liberating it is to start doing normal activities once vaccinated. A nationwide campaign to do just that is already in the works. I personally can think of a better use for the time and money that will be spent on establishing VPs: use them to focus efforts on overcoming vaccine hesitancy in concert with combatting the high tide of online vaccine misinformation and disinformation.
Source: Technology Networks
Mapping the 8 most prominent strains of COVID-19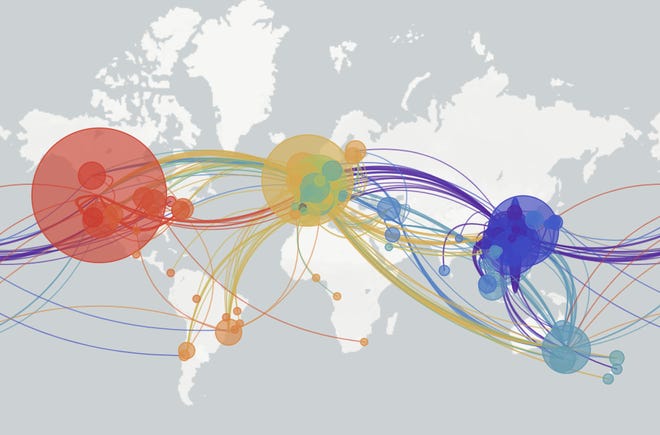 April 10, 2021 - 11:22 am
At least eight strains of the coronavirus are making their way around the globe, creating a trail of death and disease that scientists are tracking by their genetic footprints.
While much is unknown, hidden in the virus's unique microscopic fragments are clues to the origins of its original strain, how it behaves as it mutates and which strains are turning into conflagrations while others are dying out thanks to quarantine measures.
Huddled in once bustling and now almost empty labs, researchers who oversaw dozens of projects are instead focused on one goal: tracking the current strains of the SARS-CoV-2 virus that cause the illness COVID-19.
Labs around the world are turning their sequencing machines, most about the size of a desktop printer, to the task of rapidly sequencing the genomes of virus samples taken from people sick with COVID-19. The information is uploaded to a website called NextStrain.org that shows how the virus is migrating and splitting into similar but new subtypes.
While researchers caution they're only seeing the tip of the iceberg, the tiny differences between the virus strains suggest shelter-in-place orders are working in some areas and that no one strain of the virus is more deadly than another. They also say it does not appear the strains will grow more lethal as they evolve.
"The virus mutates so slowly that the virus strains are fundamentally very similar to each other," said Charles Chiu, a professor of medicine and infectious disease at the University of California, San Francisco School of Medicine.
Source: USA Today
Modeling the effectiveness of social restrictions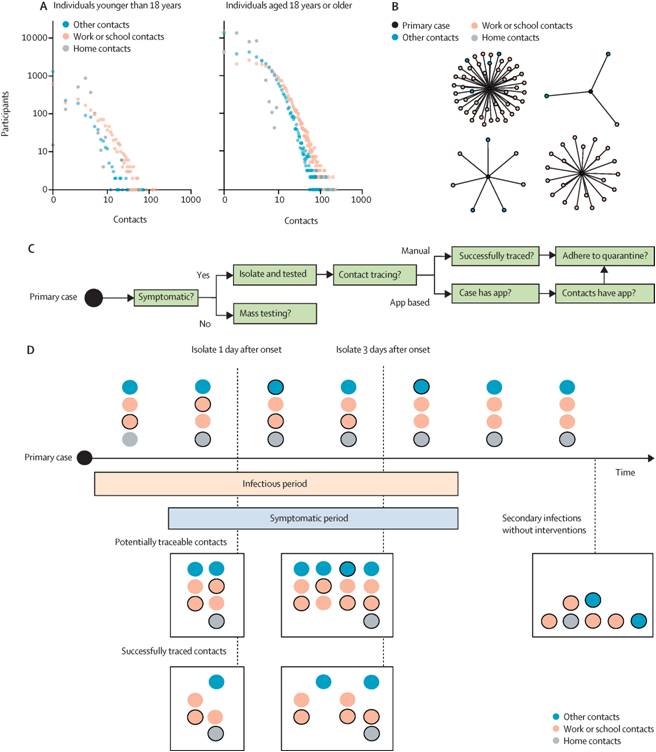 April 3, 2021 - 11:06 am
The isolation of symptomatic cases and tracing of contacts has been used as an early COVID-19 containment measure in many countries, with additional physical distancing measures also introduced as outbreaks have grown. To maintain control of infection while also reducing disruption to populations, there is a need to understand what combination of measures—including novel digital tracing approaches and less intensive physical distancing—might be required to reduce transmission. We aimed to estimate the reduction in transmission under different control measures across settings and how many contacts would be quarantined per day in different strategies for a given level of symptomatic case incidence.
Source: The Lancet
Studying mutations in the Angiotensin-converting enzyme 2 (ACE2) to predict mutation pathways in SARS-CoV-2 variants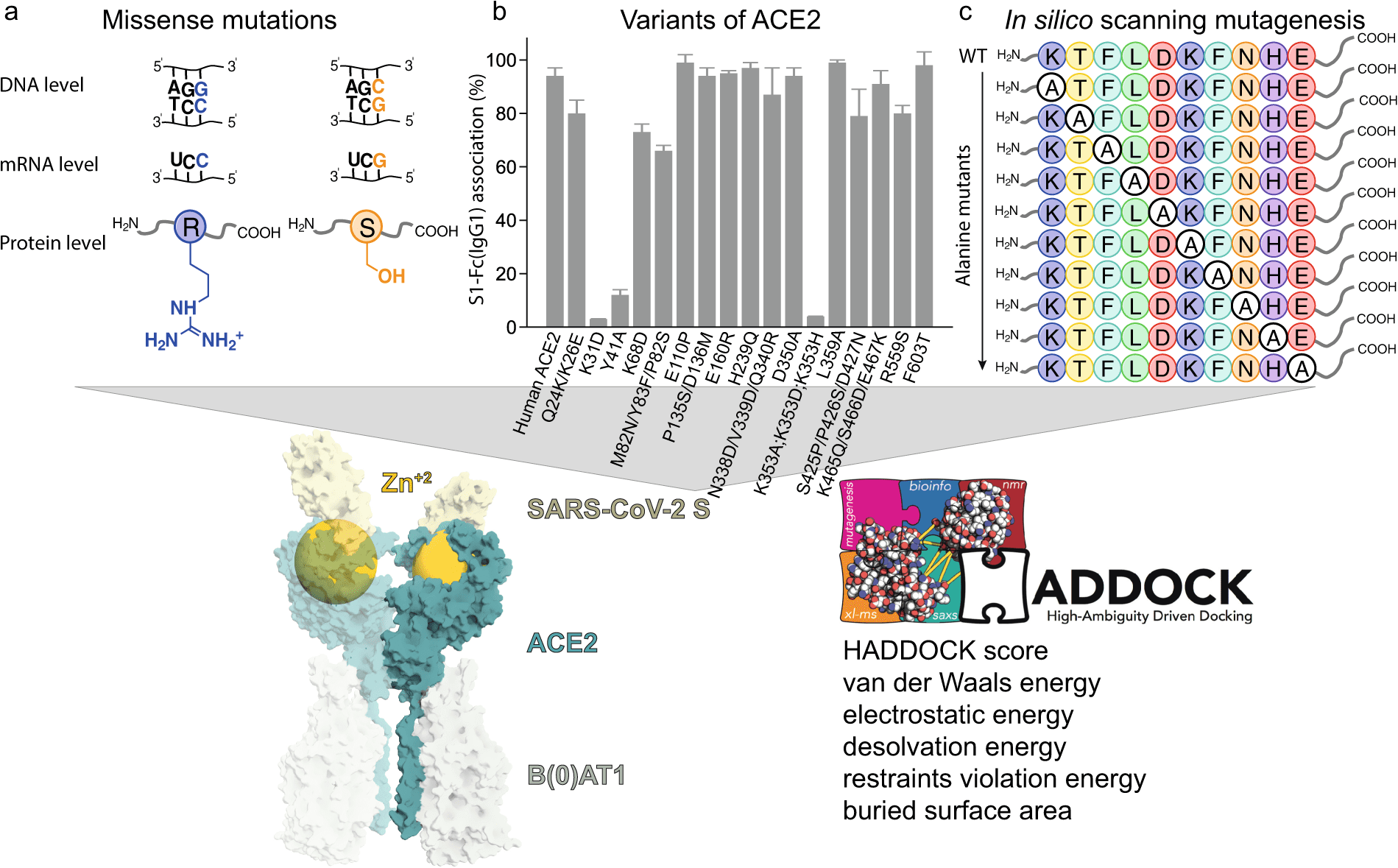 March 27, 2021 - 10:20 am
Interdisciplinary Research Center HALOmem collected information regarding naturally-occurring variants of the Angiotensin-converting enzyme 2 (ACE2), an epithelial receptor that both SARS-CoV and SARS-CoV-2 use to enter the host cells.
This dataset will help accelerate the design of therapeutics against SARS-CoV-2, as well as contribute to prevention of possible future coronaviruses outbreaks.
Source: Nature
Identifying signals for a fourth wave in the United States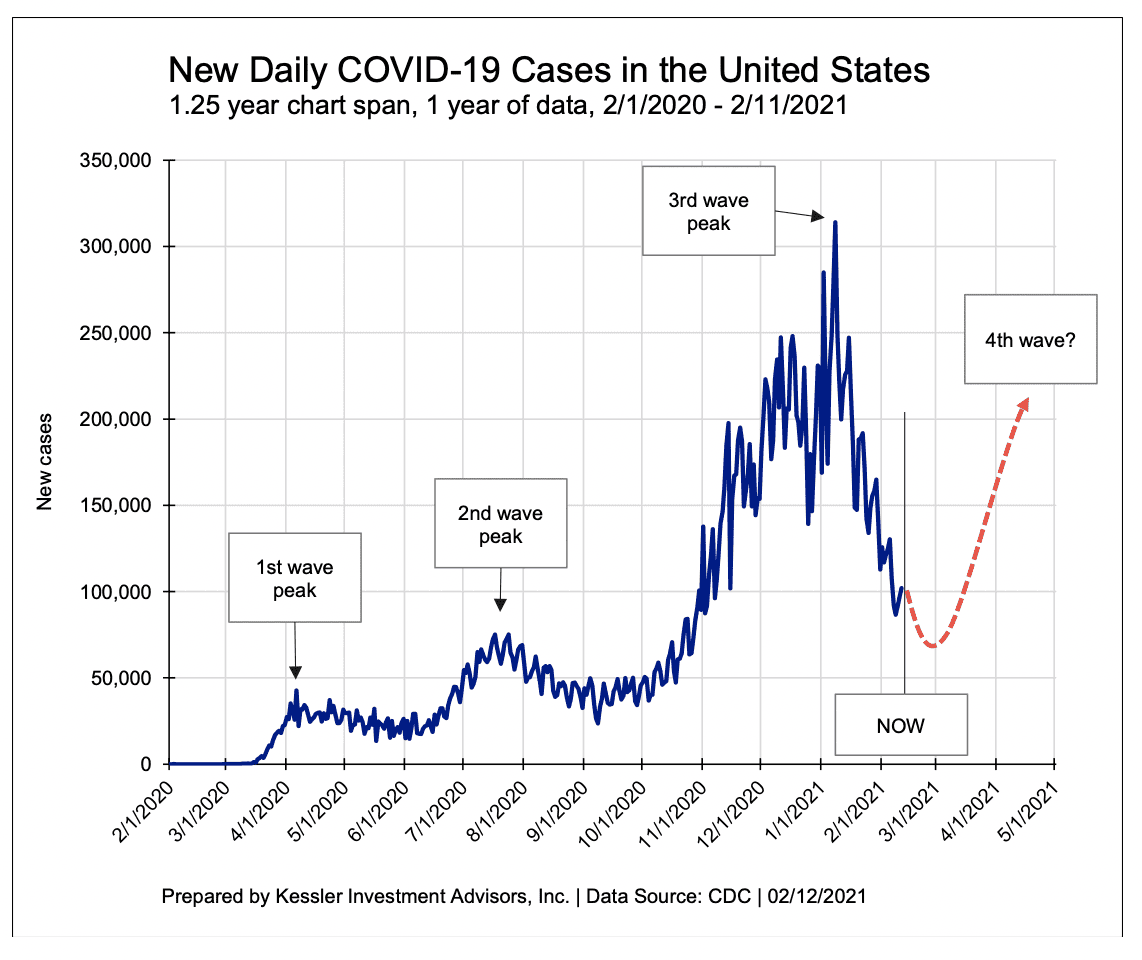 March 20, 2021 - 10:54 pm
Following weeks of good news about diminishing case counts, CDC Director Rochelle P. Walensky, MD, MPH, said in a White House press briefing in early March that the country had actually recorded an increase in COVID-19 cases over the past weeks.
Walensky warned that declines in case counts and hospital admissions "may be stalling, potentially leveling off at still a very high number."
"We at CDC consider this a very concerning shift in the trajectory," she said.
Source: Healio
Research publication trends during COVID-19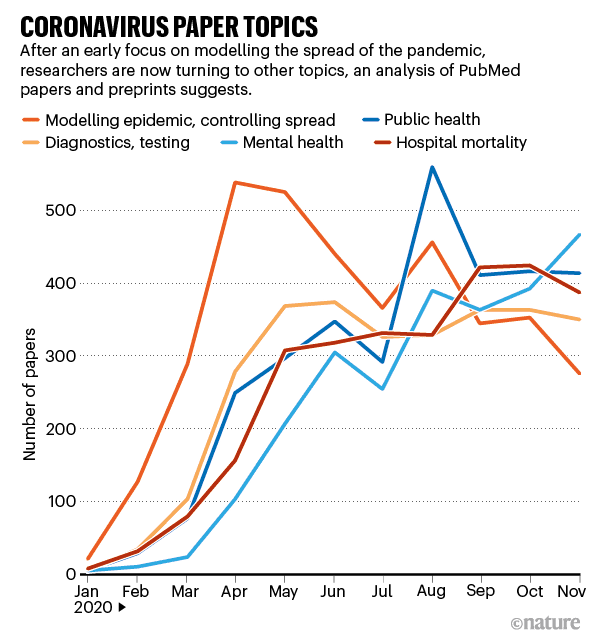 March 14, 2021 - 6:56 am
At first, COVID-19 papers (and preprints) focused on the spread of disease, the outcomes for people hospitalized, and diagnostics and testing, according to an analysis of the topics of PubMed-indexed articles by Primer, a company in San Francisco, California, that develops artificial-intelligence (AI) technologies. But these kinds of paper mostly plateaued after May, and there has been growing interest in mental-health research.
The pandemic also saw a sharp rise in sharing through preprints (articles posted online before peer review), advanced the output of male authors over female authors and affected review times — speeding them up in some topics but slowing them down in others.
More than 30,000 of the COVID-19 articles published in 2020 were preprints — between 17% and 30% of total COVID-19 research papers (depending on database searched). And, according to Dimensions, one-tenth of all preprints this year were about COVID-19.
More than half of the preprints appeared on one of three sites — medRxiv, SSRN and Research Square.
Source: Nature
Tracking America's vaccine rollout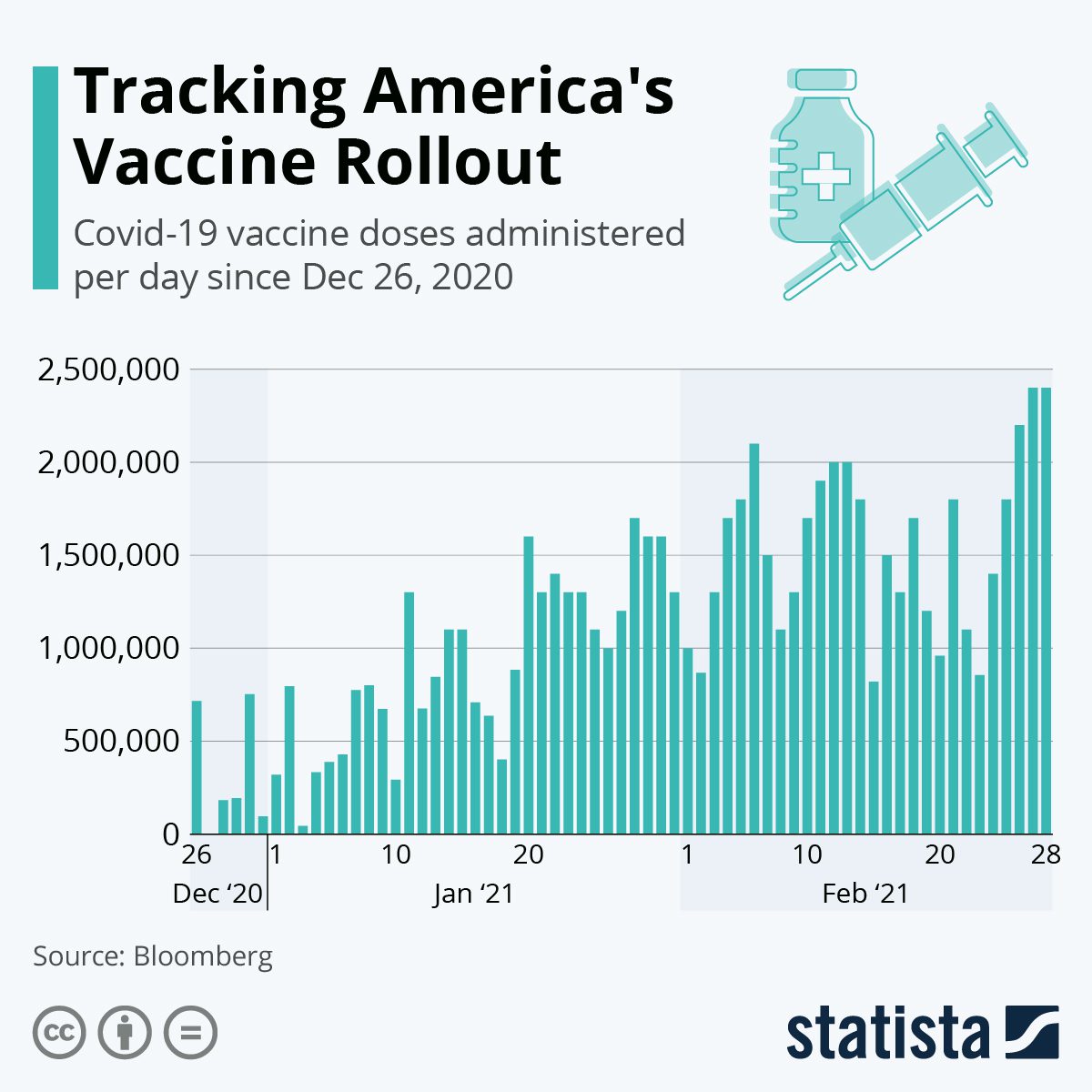 March 6, 2021 - 7:55 pm
Bloomberg has been tracking America's Covid-19 vaccine rollout, stating that an average of 1.7 million doses are being recorded every day. As of March 1st, the number of doses was in the region of 2.4 million. So far, 75 million doses have been administered across the country, 22.7 for every 100 people.
Source: Bloomberg
American debt to exceed GDP in 2021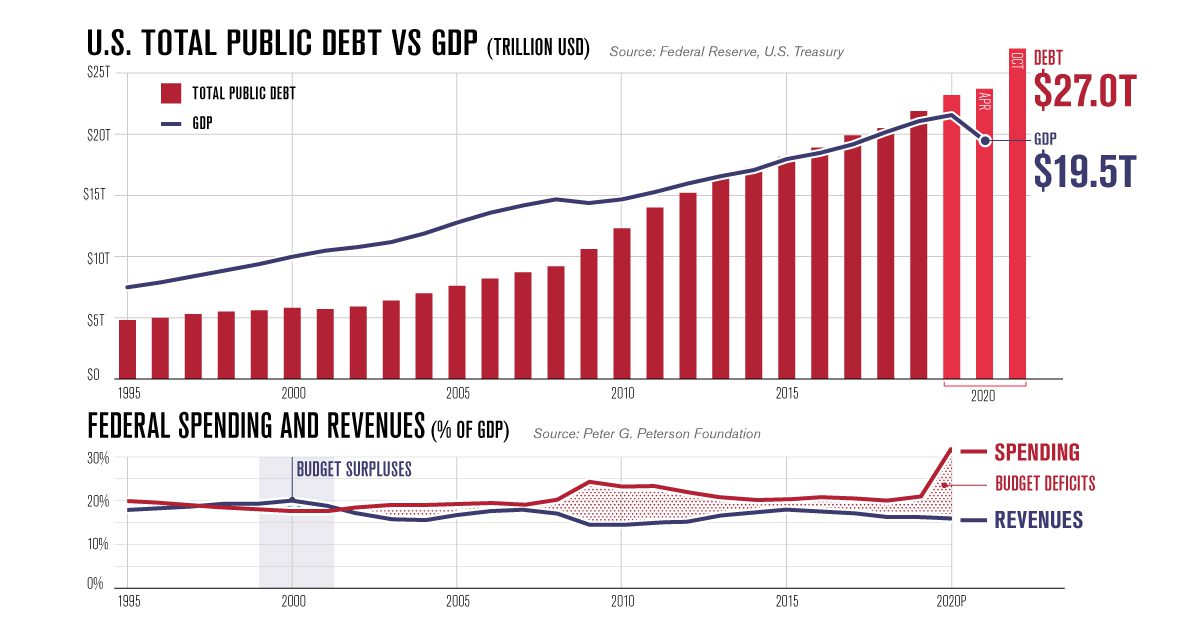 February 26, 2021 - 12:00 pm
The United States is projected to hold about $21 trillion in debt in 2021, and that number is expected to increase to $32 trillion by 2030. A $1.9 trillion stimulus bill represents a fraction of that increase, although White House officials have also discussed trying to approve a multitrillion-dollar infrastructure package later this year. The CBO projections also assume the expiration of numerous provisions of the 2017 GOP tax law aimed at the lower and middle class by the middle of this decade.
Marc Goldwein, senior vice president at the Committee for a Responsible Federal Budget, which pushes for deficit reduction, said lawmakers face a long-term challenge in getting spending and deficit levels to balance. That is not something that hinges on the precise size of Biden's stimulus package, Goldwein said.
"Even without the $1.9 trillion [stimulus], we will be at record-high debt levels" in a few years, he said. "Realistically, it's going to come much sooner than that."
Source: Washington Post
Heatmaps showing opioid sub-epidemics by demography and urbanicity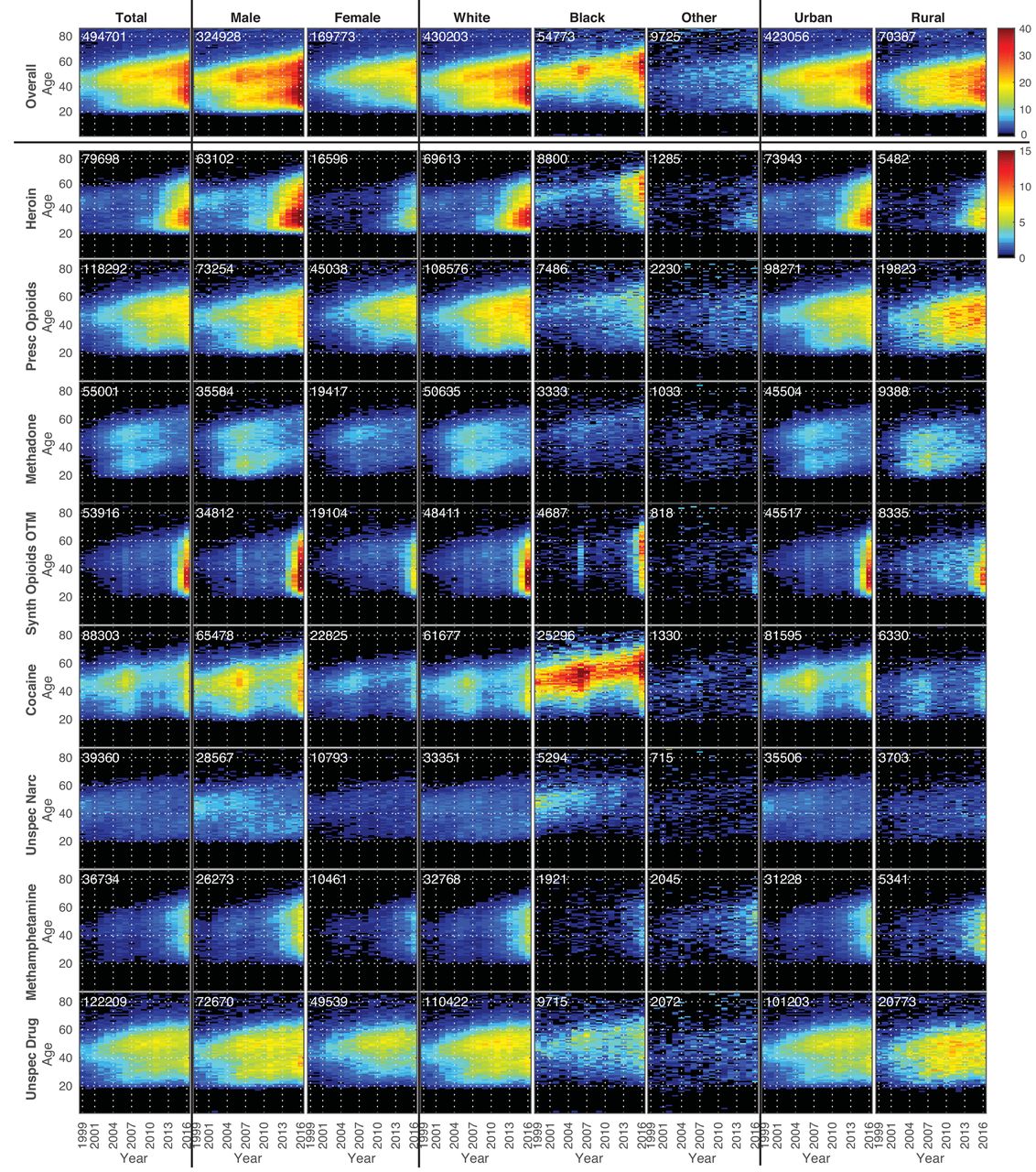 February 21, 2021 - 1:16 pm
Total number of deaths in each category from 1999 through 2016 are shown in the upper left corner of each plot. The colors indicate age-adjusted mortality rates per 100,000 people. (Synth Opioids OTM: synthetic opioids other than methadone. This category includes fentanyl and its analogs.)
Nations Pay Wildly Different Prices For Vaccines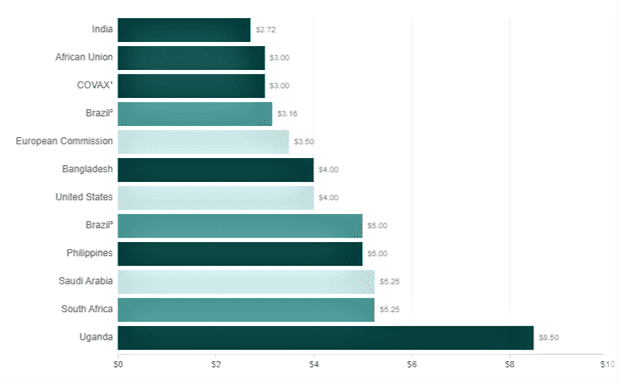 February 20, 2021 - 7:32 am
In an ideal world, the price of a vial of vaccine would be consistent across the globe.
But at this stage of the vaccine rollout, it's difficult to find out basic facts – like, how much a vial costs. Companies are keeping exact prices a secret.
To bring more transparency, UNICEF has compiled a chart of how much countries and nonprofit groups are paying for doses, drawing from local news reports, reporting by Reuters and documents obtained from various sources.
There's a significant range in price because some vaccines are more expensive to produce than others.
But even for the very same vaccine – the AstraZeneca vaccine touted as one of the most affordable in the world – there are notable differences.
Source: NPR
Timing social distancing to avert unmanageable hospital surges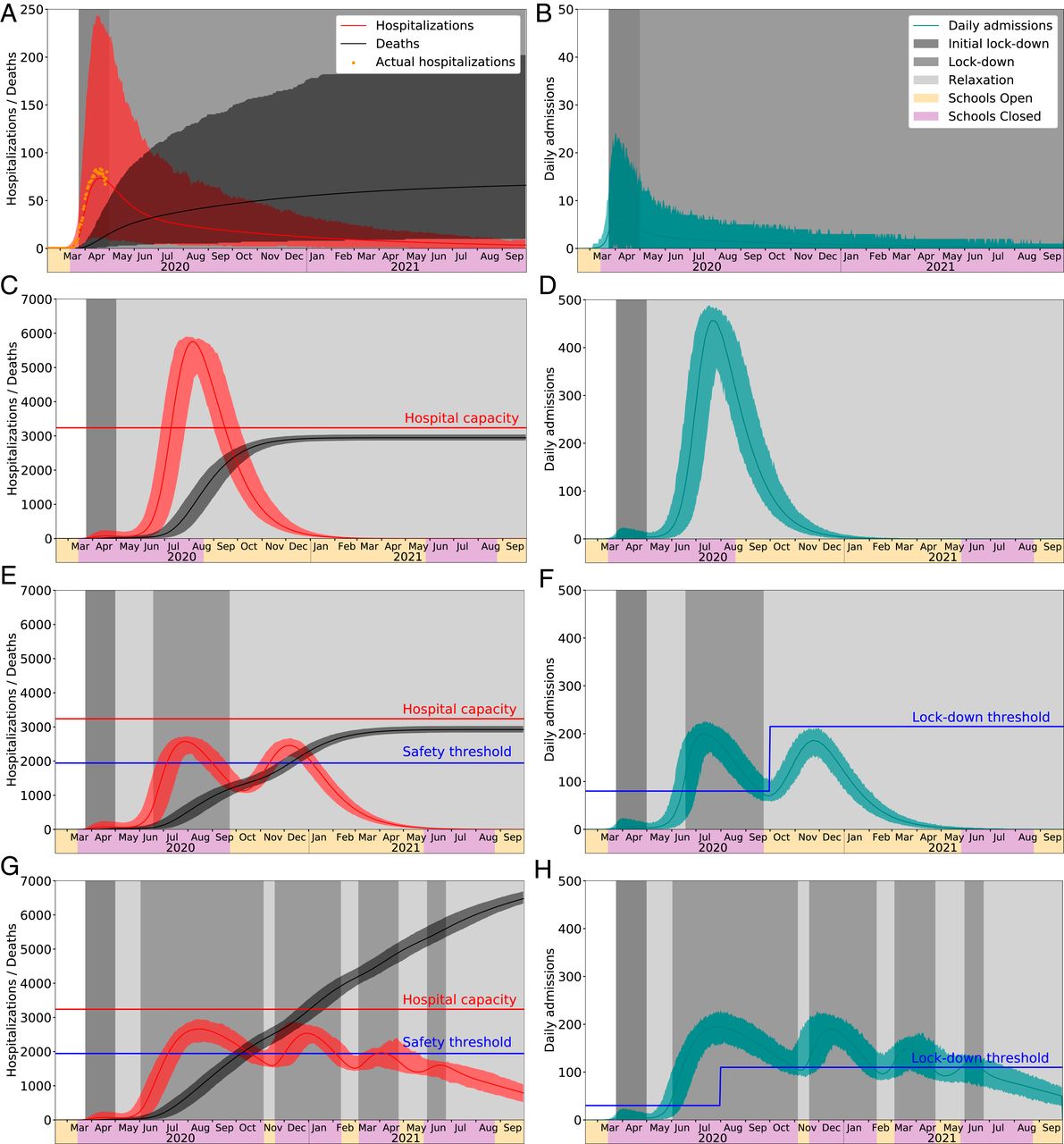 February 13, 2021 - 7:19 pm
How can we best mitigate future pandemic waves while limiting collateral economic damage? As COVID-19 social distancing measures are relaxed across the United States, temporary shelter-in-place orders triggered by monitoring local hospital admissions can minimize the number of days of disruption while preventing overwhelming healthcare surges. We develop a mathematical optimization model on top of an SEIR-style simulation model with age group, risk group, and temporal fidelity. This work has been in response to independent requests from the city of Austin, the state of Texas, the Centers for Disease Control and Prevention, and the White House Coronavirus Task Force to inform strategies for modulating social distancing policies.
Source: National Academy of Sciences
Funding allocation in 2020 predicts post-pandemic trends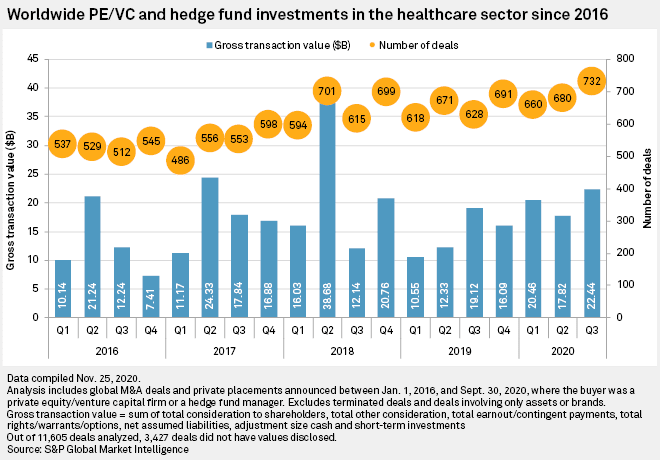 February 6, 2021 - 4:54 pm
If there is any doubt whether COVID-19 has changed the economy, simply look at the investment allocations for healthcare.
The COVID-19 pandemic drove investors in most regions to focus on companies aligned to the needs of people and businesses within the "new normal," including those focused on enabling remote working and home learning or enhancing online service capabilities.
The aggregate transaction value for the healthcare industry in 2020 was $60.72 billion based on 2,072 deals tracked by S&P Global Market Intelligence. Only industrials and information technology attracted more investment and raised $65.05 billion and $97.50 billion, respectively.
Biotechnology, which had the highest investment activity among healthcare subsectors in the first half of the year, held onto its lead and brought in about one-third of the total investment pool in 2020. Biotech businesses garnered $20.19 billion in investments based on 577 deals announced between Jan. 1 and Sept. 30.
Healthcare technology also saw strong investor activity in the third quarter and had raised $12.51 billion from 482 deals in the three quarters ending Sept. 30 — second-highest among all healthcare subsectors in 2020.
Healthtech had 273 deals in the first half of the year, bringing in about $3.47 billion and landing fourth behind biotechnology, pharmaceuticals and healthcare equipment during the first six months.
Health and biotech were big bets for venture capital investors in the third quarter and investments in these sectors will likely remain very high, along with investment in financial technology, business productivity solutions and digital platforms, according to KPMG Private Enterprise's Oct. 21 report.
Source: S&P Market Intelligence
Updated probability adjusted model predicts longer tail for herd immunity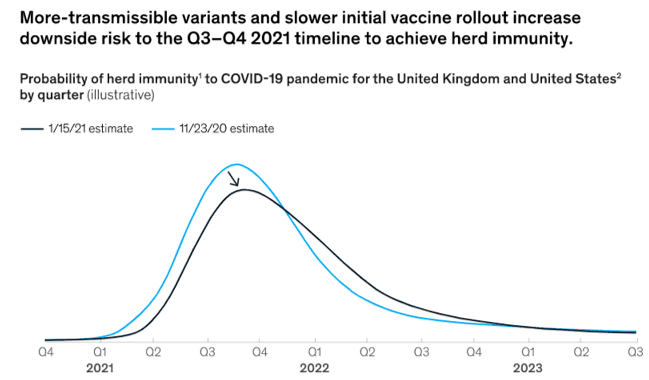 January 30, 2021 - 7:19 pm
More transmissible variants and slower rollout of vaccines increase downside risk to herd immunity timeline. Issues include manufacturing and supply chain problems, more infectious variants, slower adoption for vaccines, vaccines proving to be less effective in reducing meaningful transmission.
More cell and gene therapy start-ups than ever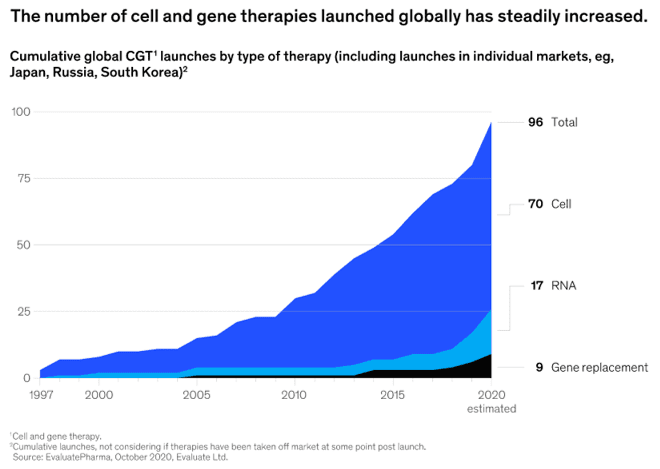 January 23, 2021 - 3:19 pm
Cell and gene therapies offer treatment, and sometimes cures, for patients with serious, often rare, and never-before-addressed diseases. And many more have become available in recent years—more than 75 launched worldwide in 2019, and 96 new ones were on track for the end of 2020.
Source: McKinsey & Co.
COVID-19: An Adaptive System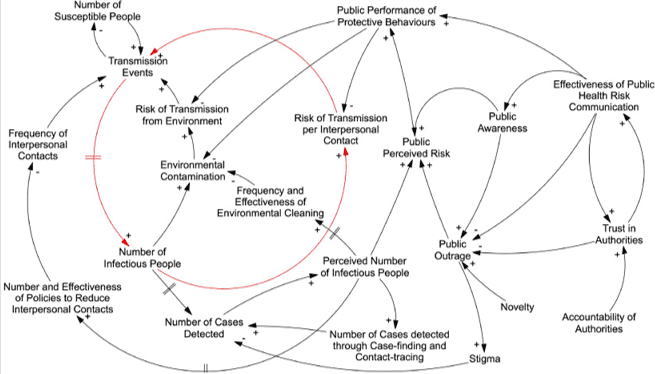 January 17, 2021 - 5:43 pm
Systems thinking can help policymakers understand and influence the spread of infection and its multifaceted consequences across the community since society is itself a complex adaptive system. It can provide a framework to look beyond the chain of infection and better understand the multiple implications of decisions and (in)actions in face of such a complex situation involving many interconnected factors. Causal loop diagrams (CLDs) are tools to depict the causal connections between components of a system, and illustrate how changes in one component cascade in changes in others and back to itself, via feedback loops, potentially affecting the status of the entire system. The figure presents a simple CLD as an example of some important interacting components in a society that is responding to the threat of COVID-19.
A reinforcing feedback loop is responsible for causing exponential growth in the number of infected people (in red). However, the risk of transmission (often expressed as the basic reproduction number, R0) is seen to be a factor of the context, not simply a characteristic of the virus, resulting from a long chain of dynamic interactions involving components otherwise seen as distant or disconnected, such as the public's trust in authorities and stigma.
Risk communication influences people's capability and motivation to perform protective behaviors. However, public alarm about a novel hazard and low trust in authorities may result in 'outrage'. In our illustrative CLD, this may give rise to stigma, reducing detection of infectious people, and therefore reducing the intensity of individual and societal responses. As the novelty of the situation declines, so may outrage, risk perception and individual protective behaviors.
Source: Lancet
Path to Herd Immunity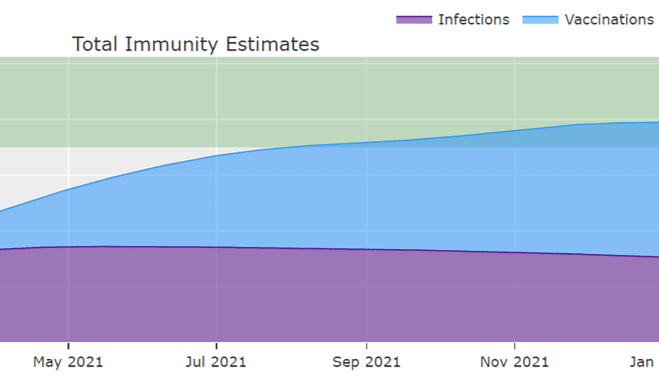 January 10, 2021 - 5:11 pm
COVID-19 Projections machine learning team cites the following notes in their live analysis of herd immunity in the United States.
Key briefing notes include:
Path to Herd Immunity: 2021 Outlook of COVID-19 in the US
We estimate COVID-19 herd immunity (>70% of population immune) will be reached in the US during summer 2021 (Jun-Aug 2021). At a high level, herd immunity is a concept in which a population can be protected from a virus if enough people possess immunity.
At the time herd immunity is reached, roughly half of the immunity will be achieved through natural infection, and the other half will be achieved through vaccination.
New infections may become minimal before herd immunity is reached. But due to imported cases and localized clusters, it is unlikely that new infections will drop to zero until at least 2022.
Deaths may drop to low levels even earlier (May-Jul 2021), in part due to a vaccine distribution strategy that initially prioritizes high-risk individuals. Once deaths fall to minimal levels, we may see a relaxation of restrictions.
Summarizing the above findings, our best estimate of a complete "return to normal" in the US is mid-summer 2021 (June/July 2021).
We estimate roughly 80% of the US population (~265 million) will receive at least one dose of the vaccine by the end of 2021, with children and adolescents being the last group to receive it (Aug-Nov 2021).
We estimate around 35% of the US population (~120 million) will have been infected by the SARS-CoV-2 virus by the end of 2021. That is an additional 55 million infections since mid-December 2020.
This translates to a final US COVID-19 death toll of roughly 600,000 (±100,000) reported deaths, or ~300,000 additional deaths since mid-December 2020.
Source: COVID-19 Projections
https://covid19-projections.com/path-to-herd-immunity/
COVID-19 in January 2021


January 4, 2021 - 7:25 am
We have an opportunity to reach the peak of this current wave by the end of January if we can continue to expand vaccine roll-out and maintain public safety measures. If not, we may not see the peak of this current wave until March.
Daily Reported COVID-19 Cases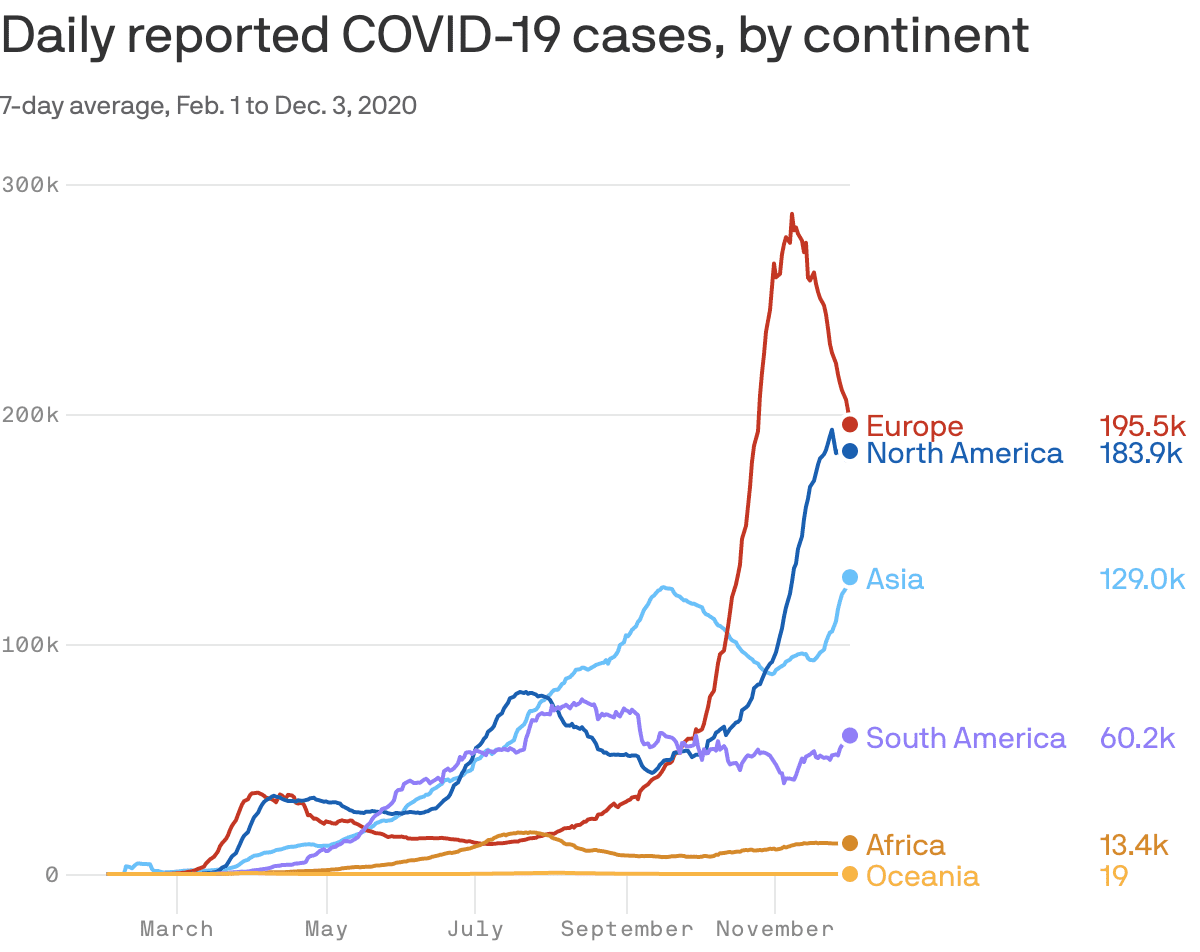 December 6, 2020 - 2:47 pm
Europe seems to have turned the corner on their most recent upswing in cases. But if past patterns hold true, this forewarns the next upswing in cases in the United States.
IHME Timeline of Weekly Cases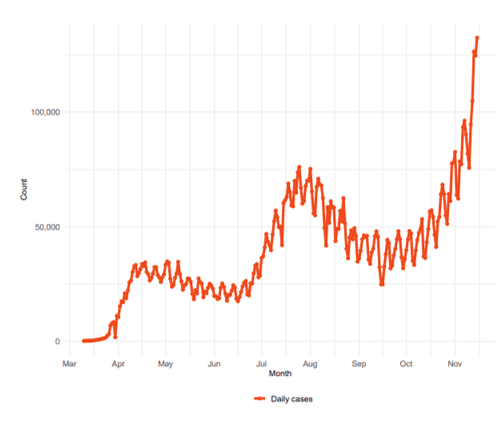 November 27, 2020 - 7:40 pm
Cases in the United States are increasing, and increasing at an unprecedented rate – portending an increase in the number of cases and overall mortality in the months of December and January.
The Distribution of New Cases in the US has Shifted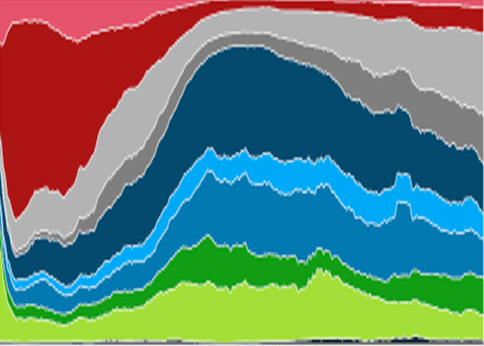 November 23, 2020 - 6:48 am
The distribution of new cases in the US has shifted from the Northeast to the Southern and Western states.
Pink – The Northeast includes New England (MA, CT, RI, VT, NH, ME).
Maroon – Mid-Atlantic states (NY, NJ, PA).
Light Gray – East North Central states (MI, OH, IN, IL, WI).
Dark Gray – West North Central states (MN, IA, MO, ND, SD, NE, KS).
Navy Blue – South Atlantic states (WV, MD, DE, VA, NC, SC, GA, FL).
Baby Blue – East South Central states (KY, TN, MS, AL)
Sea Blue – West South Central states (TX, OK, AR, LA).
Dark Green – Mountain states (MT, ID, WY, NV, UT, CO, NM, AZ)
Light Green – Pacific states (CA, OR, WA).
Source: John Hopkins, McKinsey & Co.
Projected Demand for Hospital Resources in Early 2021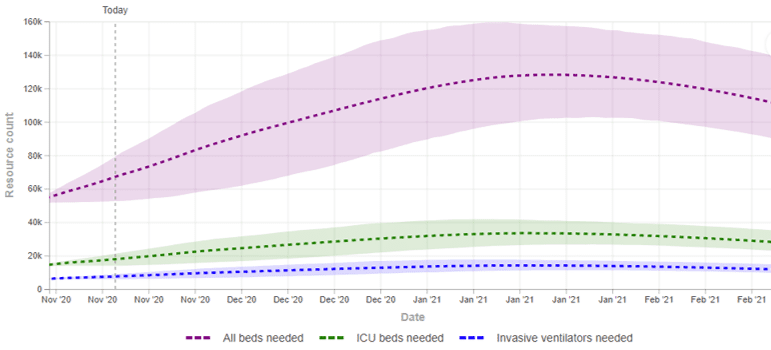 November 17, 2020 - 12:16 pm
Demand for hospital resources are likely to increase by the end of January 2021 – with a distinctly sharper rate of increase for hospital beds relative to ICU ventilators and other equipment needed for critically ill COVID-19 patients.
This suggests that while cases are rising, the ratio of critically ill cases to total cases will be lower than in the initial surge seen in the early parts of 2020.
Aggregated COVID-19 Forecasts for November, 2020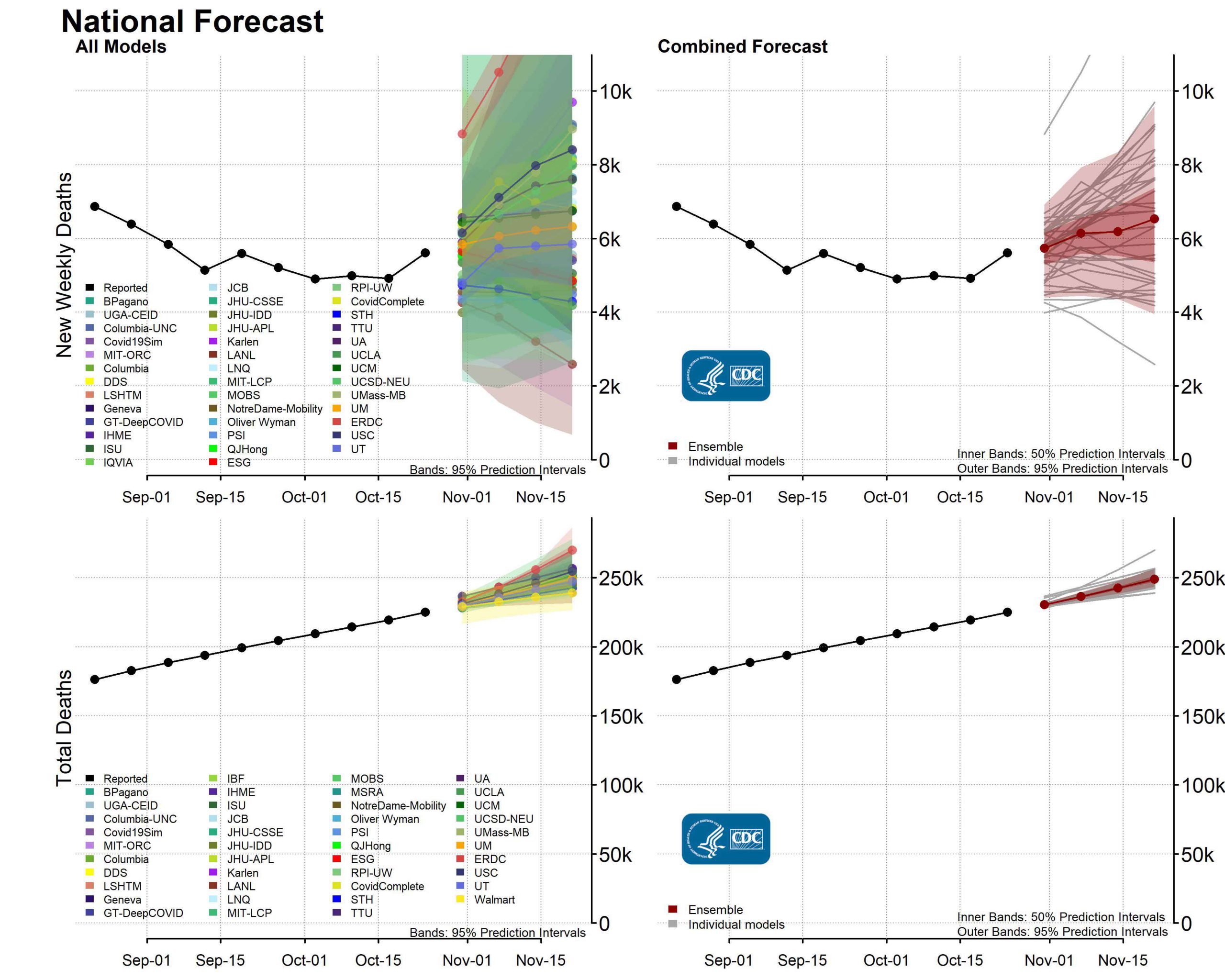 November 2, 2020 - 7:30 pm
The CDC received forecasts of COVID-19 deaths over the next 4 weeks in November from 47 modeling groups. Of the 47 groups, 42 provided forecasts for both new and total deaths, three groups forecasted total deaths only, and two forecasted new deaths only. The national ensemble forecast indicates an uncertain trend in new COVID-19 deaths reported over the next four weeks and predicts that 3,900 to 10,000 new deaths will likely be reported during the week ending November 21, 2020. The national ensemble predicts that a total of 243,000 to 256,000 COVID-19 deaths will be reported by November 21, 2020.
Sensible Medicine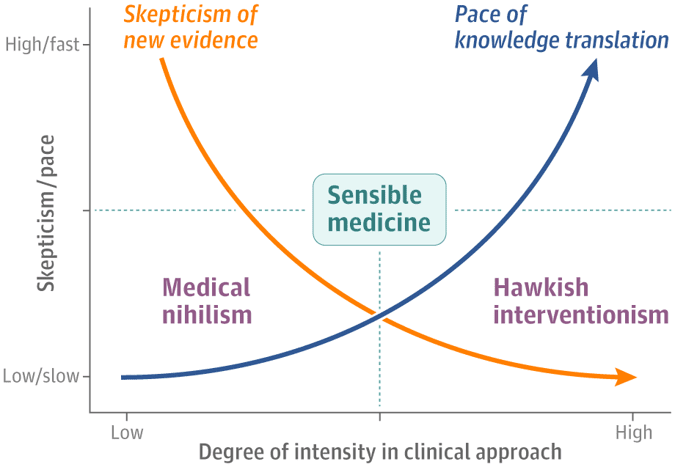 October 20, 2020 - 12:40 am
Sensible medicine is an approach to treatment that seeks a balance along the spectrum of the strength of evidence and the pace of knowledge translation. On one hand, a hawkish interventionist has little doubt about the effectiveness of a new treatment and rapidly adopts it into practice. There is a tendency to favor adoption of the new, acceptance of less rigor in research methods and results, and a glance away from subconscious biases. This contrasts with the medical nihilist who is highly skeptical of new evidence and hopes to intervene even less. The medical nihilist is certain of the futility of treatment, ineffectiveness of most medications, and corrupting influence of financial incentives. In the middle is a sensible approach, which acknowledges that some interventions are effective but, perhaps, confidence should be tempered. With sensible medicine, the translation of knowledge to the bedside is appropriately calibrated to the rigor and reasoning of the available evidence and the severity of the outcome to be avoided.
Value Creation in VC Funds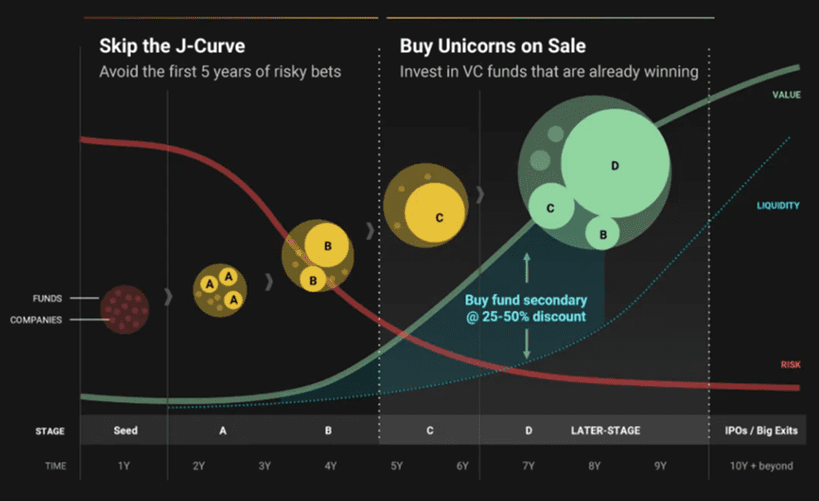 October 13, 2020 - 11:14 am
PVC, a sort of funds of funds when it comes to venture capital funds, has beautifully captured a value creation opportunity in venture capital fund investments.
"Because portfolio companies are already established and growing, buyers have a better sense of what they're getting for their money – they aren't investing in a "blind pool" of unknown future assets. After five years or more, successful VC funds should have established winners at Series B or C and perhaps even early exits and distributions. Seeing the first few years of performance in the rearview mirror provides insight into how well the fund manager is doing and how well the fund is likely to perform in the future. Again, it's kind of like checking the score at halftime to see which team is ahead."
But their model assumes a particular growth pattern underlying the growth of the portfolio startups. Something distinctly not present in the heavily regulated world of healthcare startups. Value creation for healthcare focused funds, therefore, should focus more on the relationship between the regulators and innovators, and draw growth patterns focused more on the dynamics of that relationship than the dynamics of intrinsic portfolio company growth.
IHME Extends COVID-19 Projections to February 2021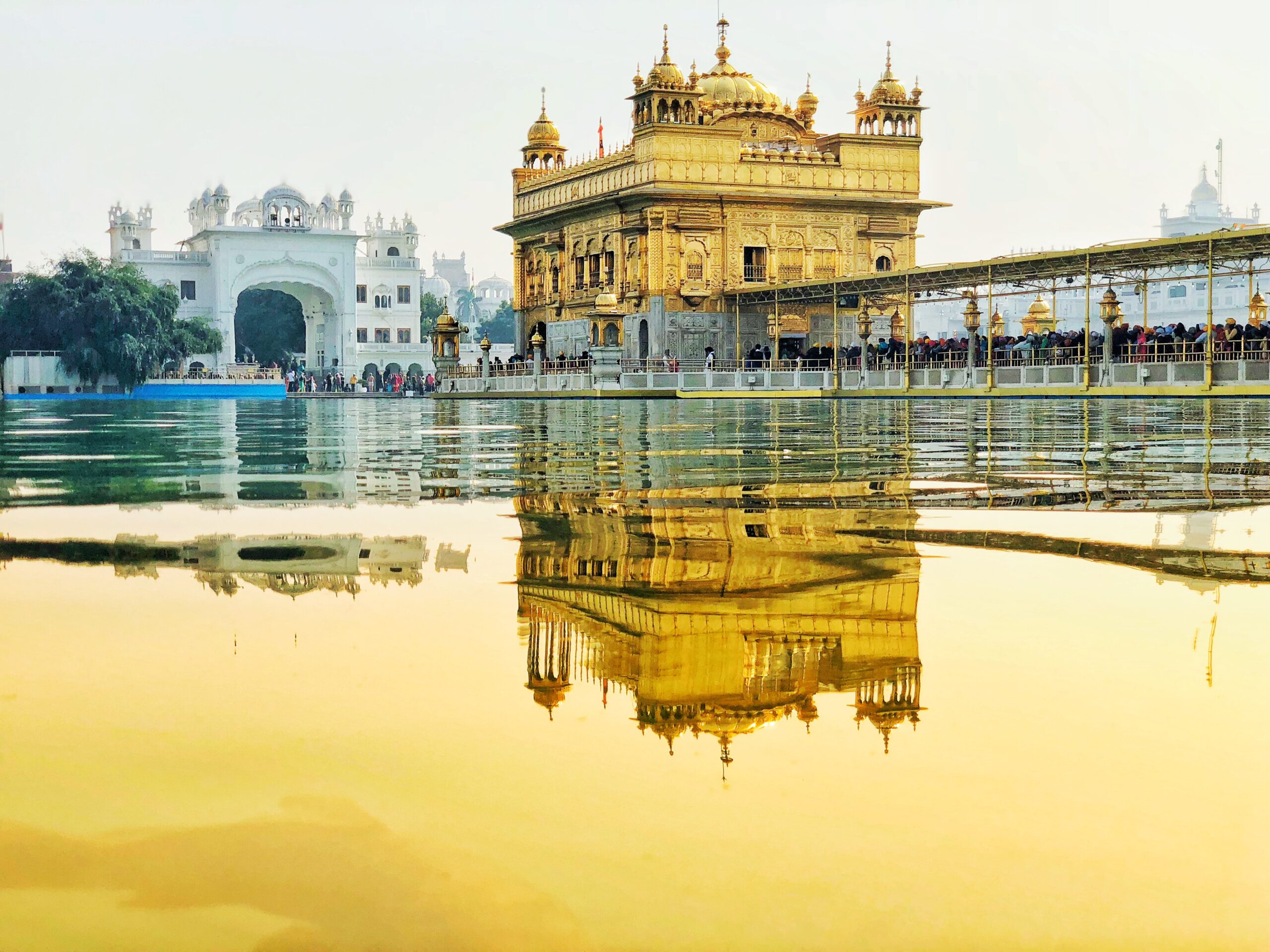 October 11, 2020 - 11:43 pm
Researchers at the University of Washington's Institute for Health Metrics and Evaluation (IHME) released new numbers, updating its COVID-19 death toll forecast through Feb. 1, 2021, in the U.S.
The U.S. has seen daily deaths increase slightly to about 750 per day since August, and the newest model shows that number climbing to nearly 2,900 daily by the end of December, bringing the total deaths to about 363,000.
According to Johns Hopkins University, deaths are forecast to total 395,000, an increase of 181,000 from today's current total of 214,000.
But if mask use is increased to about 95%, overall deaths could drop to 316,000, saving 79,000 lives through Feb. 1.
IHME is forecasting a peak of 2,300 deaths daily in mid-January. But with 95% mask use, that number drops to under 1,400.
IHME is projecting about 2.5 million overall global deaths by Feb. 1, but that number drops to 1.7 million if there is 95% mask use.
And global daily deaths are forecast to peak in mid-January at just over 17,000 per day but could drop to just under 7,000 if mask use is at 95%.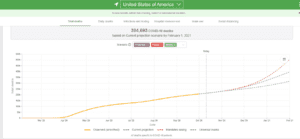 The Value of Universal Masking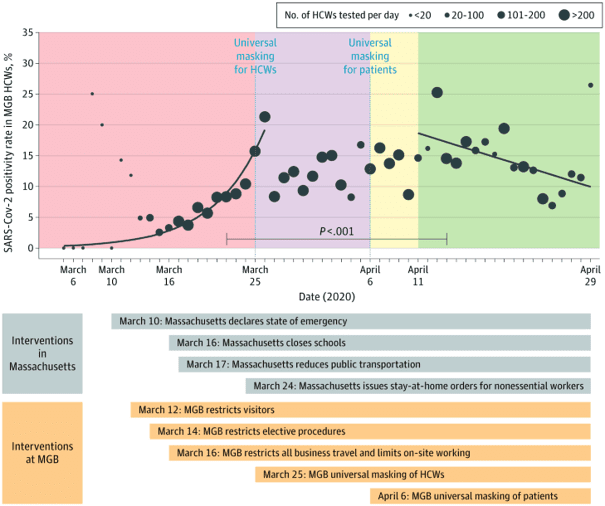 October 2, 2020 - 1:30 pm
Universal masking at Mass General Hospital was associated with a significantly lower rate of SARS-CoV-2 positivity among health care workers. This association may be related to a decrease in transmission.
However, randomized trials of universal masking during a pandemic are likely not feasible.
Nonetheless, these results support universal masking as part of a multipronged infection reduction strategy in health care settings.
Causal Reasoning Improves Medical Diagnosis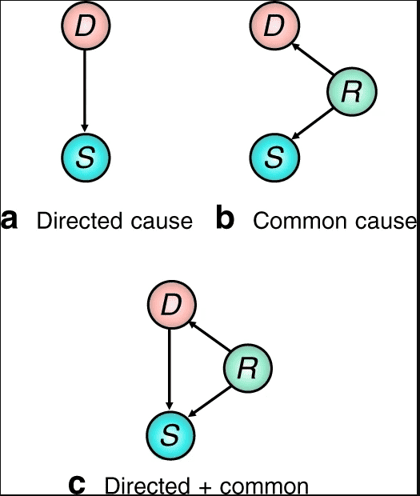 September 25, 2020 - 1:50 pm
As the development of medicine accelerates in the age of COVID-19, the methods and processes through which we conduct the most basic of clinical activities – diagnosing and treating patients – must advance as well.
Although machine learning algorithms show great potential in optimizing patient care, imaginative or associative patterns of learning are necessary in order for such learning algorithms to replicate the cognitive abilities of physicians.
The Sharpe Ratio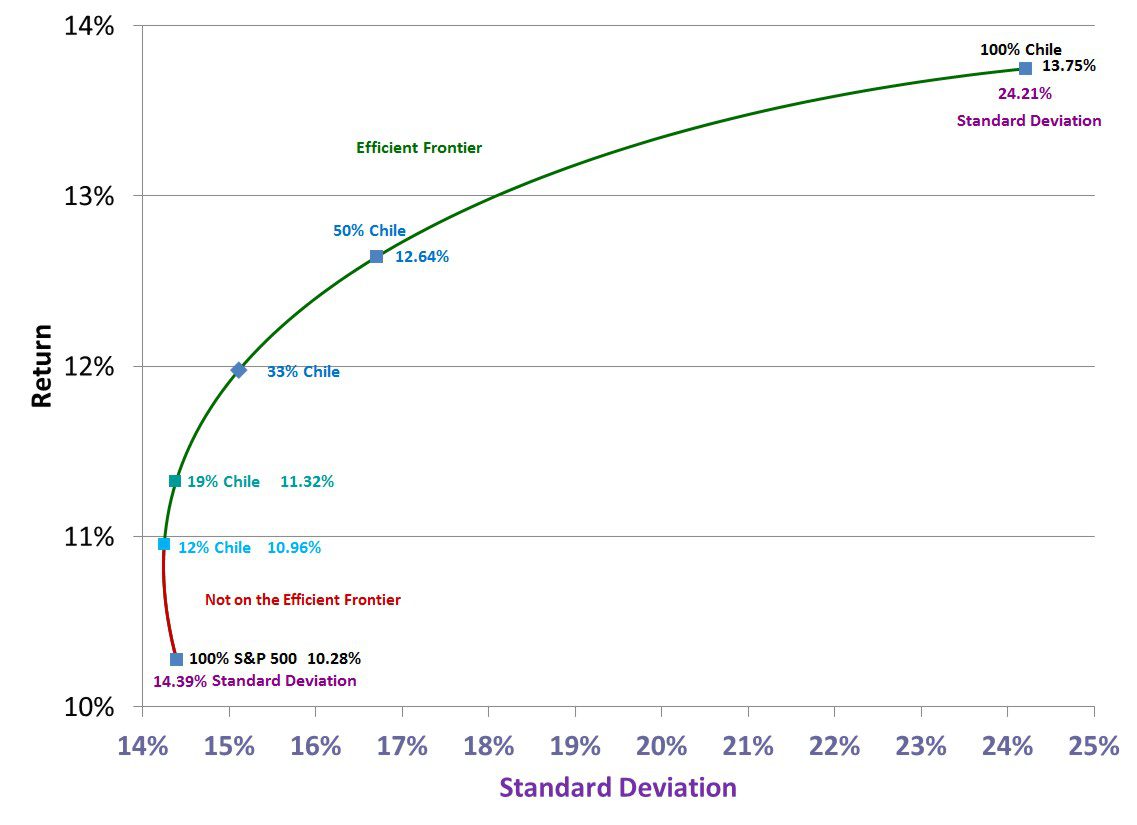 August 11, 2020 - 8:15 am
The Sharpe Ratio is used to help investors predict the anticipated financial return relative to the risk of an investment. But did you know this model can also predict high-risk behavior of patients with substance abuse?