A two headed monster is attacking the supply of FDA approved pain medications.  One of the heads is Medusa-like, consisting of 41 state Attorneys General.  The other head is our old nemesis, the DEA.
Several months ago, thanks to my associate Patricia A Irving RN, I became interested in the significant negative impact of last year's 41 state AGs' "Nation-wide Settlement" with the three major distributors (wholesalers) of controlled substances, McKesson, AmerisourceBergen, and Cardinal Health.  I soon agreed with her concerns after carefully reading all 54 pages of this settlement's Injunctive Relief which is labeled, "Exhibit  P".  A fair assessment of the impact of this settlement's "injunctive relief" requires all 54 pages to be read.  Exhibit P begins on page 478 of the 571 page settlement: Final-Distributor-Settlement-Agreement-3.25.22-Final.pdf.
Pat and I contend this settlement's injunctive relief, with its mandated "Thresholds" (which the distributors MUST establish and KEEP SECRET from the pharmacies they supply), "Red Flags", "Onboarding", "Terminated Customers", ad infinitum, are resulting in insufficient supply to pharmacies of existing, already manufactured controlled substances, not just opioids.  The injunctive relief is very onerous and intimidating, I believe by design. The entire supply chain is rightfully afraid and therefore being overly cautious/restrictive. The latest government inflicted harm Chronic Pain Patients (CPPs) are now experiencing was the easily foreseeable outcome of this injunctive relief.  Pat Irving had her excellent article on this subject recently published in Pain News Network. The National Opioid Settlement Is Causing Drug Shortages — Pain News Network
It was my interest in her concern about the settlement's additional negative impact on the supply chain which prompted my researching the severity of the DEA's opioid production quota cuts and therefore their negative impact on the supply chain.  Just looking at the numbers did not convey to me the across-the-board magnitude of these progressive cuts. I decided to use an Excel based graph to "show" the 2012 through 2023 DEA manufacturing/production quotas for some common pain medications.  You can see the shocking result in the graphic below.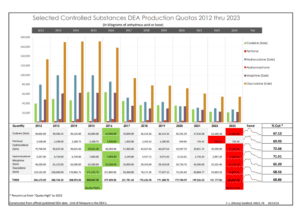 A lesser-known supply shortage issue I recently discovered is the DEA, just this past August 31st, reduced the "inventory allowance" manufacturers were allowed to retain on hand to cover unforeseen supply chain/manufacturing issues was reduced from 50% to 40%, further constricting the efficient supply of opioid medications.  Brace Yourself: DEA's Final Rule on Quotas Squeezes Inventory Levels and Signals Further Supply Restrictions | Quarles & Brady LLP – JDSupra
I have witnessed on social media the alarming uptick in the number of pain patients finding their pharmacies unable to fill their legitimate prescriptions because the pharmacies are out of stock.  This prompted me to research the ASPH.org Current Drug Shortages – ASHP and the Drugs.com Current Drug Shortages List – Drugs.com shortage databases, both of which list significant shortages of Hydrocodone and both variants of Oxycodone.  (I learned from Pat Anson of PNN News Network, these two databases are essentially one in the same.)  I also viewed the FDA drug shortages database FDA Drug Shortages.  To my surprise, the FDA lists ZERO hydrocodone and oxycodone shortages. This dichotomy is a major problem.  If the FDA does not even acknowledge there is a shortage of these two medicines, the FDA will certainly take no related remedial action, like they recently did in concert with the DEA, to address ADHD medications shortages.  Adderall makers agree to increase production: DEA (msn.com).
To make matters worse, at a time when production quotas should obviously be increased, the just announced proposed DEA 2024 opioid production quotas cuts do the opposite!  Adding insult to injury, the FDA came to this inexplicable conclusion: "FDA predicts that levels of medical need for schedule II opioids in the United States in calendar year 2024 will decline on average 7.9 percent from calendar year 2023 levels." Regulations.gov.  While the non-sensical proposed cuts from 2023 appear relatively minor in the macro view, they still cut production quotas of the six medications I graphed as follows: Codeine -8.3%, Fentanyl -7.6%, Hydrocodone -0.3%, Hydromorphone -2.1%, Morphine -4,3%, Oxycodone -0.3%.  See my revised graphic for 2013 through 2024 (Proposed).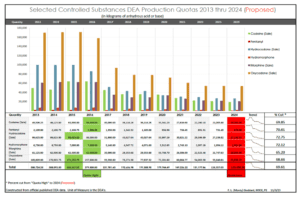 We have until Dec 4th to submit professional (avoiding emotions and expletives)  comments on the DEA proposed 2024 production quotas.  Cite the shortages you are already experiencing on pharmacy shelves to support your request that the DEA increase their opioid production quotas, NOT cut them further! Comments can be submitted via this link: Regulations.gov.